Once called home to the Royal Chiefs of Maui, Ka'anapali is now a popular destination for the World, situated on miles of white sandy beach and crystal clear water with five major hotel resorts and six condominium villages, a world-class shopping complex, oceanfront restaurants and two legendary golf courses…
Envision your Life in Kaanapali
Cultural History
Ka'anapali means "rolling cliffs" in Hawai'ian, which was once a royal retreat for the rulers of Maui and home to a thriving community of native Hawai'ians, where they surfed, raced outrigger canoes, feasted on luaus and played ulu maika, a form of lawn bowling with heavy lava balls.
Yet the Hawai'ian villages at Ka'anapali eventually disappeared as the plantation era arrived, becoming a camping location for the immigrant families brought in to work for the sugar companies.
In early 1956, as the sugar market was beginning its slow decline and the future of travel and tourism was promising, board members of the Pioneer Mill decided to convert 500 acres of unproductive sugar cane land into the first master-planned resort area, becoming a model for resorts around the globe.
World-Class Resort Hotels and Condominiums
When the Royal Lahaina opened on the beach in 1962, it inspired many more hotels and condominiums to be built on Ka'anapali Beach and for several miles up and down the Coast amidst lush gardens, including resort hotels like the Hyatt Regency, Marriott, Sheraton, Westin, Aston, Kaanapali Beach Hotel and Honua Kai; and condominiums like the Kaanapali Alii , the Whaler and the Outrigger Eldorado Resort - establishing Ka'anapali as one of the most sought-after travel destinations in the World.
Ka'anapali Beach
Once named the "#1 Beach in America," Ka'anapali Beach is a spectacularly beautiful beach with white sand and crystal clear water, where the swimming is glorious and there is plenty of space to surf and sunbathe.
You can also enjoy the beautiful ocean views as you walk or run along the paved 4.4 mile out-and-back Ka'anapali boardwalk trail, fronted by several resorts, high-end shopping, various restaurants and activities, where you can meander between shopping, eating, drinking, enjoying the sunset and the beach.
Occasionally, you can also see humpback whales frolicking not far from the shoreline in the Wintertime.
Black Rock
One of Ka'anapali's most famous attractions is the daily cliff diving ceremony held every evening at sunset at Pu'u Keka'a (also known as "Black Rock") off Kaanapali beach's northernmost cliffs, where Kahekili, the King of Maui, would practice the sport of lele kawa, or leaping into the sea.
Black Rock is also a popular spot for snorkelers and scuba divers alike, as well as for water sports such as parasailing, wind surfing and jet skis.
Kahekili Beach (Airport Beach)
With easy access parking, Kahekili Beach Park (also known as 'Airport Beach') is the "go-to" beach for locals and visitors alike, perfect for sunbathing and relaxing, snorkeling with turtles and includes many facilities such as a huge, covered picnic pavilion, barbecue grills, expansive grass lawn, showers and restrooms.
Whaler's Village
For a truly unique shopping experience, Whalers Village, the island's premier oceanfront retail center in Ka'anapali, offers a wide variety of food ranging from fast food to full-service oceanfront restaurants such as Hula Grill, Monkeypod and Leilani's on the Beach, as well as specialty boutique and upscale retail stores and entertainment activities.
Fairway Shops
Conveniently located along Honoapi'ilani Highway in the middle of Kaanapali, the Fairway Shops is a "Resort Retail Center" featuring a unique mix of specialty shops, dining and services, like real estate sales, snorkeling equipment, manicures, massages and professional hairdressing.
Other Local Restaurants and Shops
Local restaurants in the Ka'anapali area are mainly within the resorts and resort retail centers, including Son'z Steakhouse, Umalu and Japengo at the Hyatt Regency, Tiki Terrace Restaurant at the Kaanapali Beach Resort,  Ka'anapali Grille and Tap Room at the Marriott, Royal Ocean Terrace Restaurant at the Royal Lahaina Resort, Black Rock Steak & Seafood and Teppan-yaki Dan at the Sheraton and the Relish Oceanside and Relish Burger Bistro at the Westin – plus many, many more.
There are also many local grocery and large supermarket stores near Ka'anapali, includingTimes Supermarket, Whalers General Store, Napili Market and Safeway and Foodland, just a short 9 min drive away in Lahaina.
Ka'anapali Golf Courses
The Ka'anapali Golf Courses, the Royal Kaanapali Course and the Kaanapali Kai, offer 36 holes of legendary golf, situated on 1200 acres of land, with panoramic views of the Pacific Ocean and the West Maui Mountains.
The Royal Kaanapali Course, first opened in 1962, has hosted the Champions Tour, LPGA Women's Kemper Open and Shell's Wonderful World of Golf.
Ka'anapali Climate
The climate in Ka'anapali is warm, muggy, windy and mostly clear.
Over the course of the year the temperature typically varies from 66°F to 87°F and is rarely below 60°F or above 89°F.
September is the hottest month for Ka'anapali with an average high temperature of 86.9° and February has the coldest nighttime temperatures with an average of 64.4°. This is warmer than most places in Hawai'i.
The most pleasant months of the year for Ka'anapali are January, February and March.
Schools
Schools located near the Kaanapali area include:
Lahainaluna High School
Grade Span: 9th - 12th
Sacred Hearts School & Early Learning Center
Grade Span: Pre-K - 8th
King Kamehameha III Elementary School
Grade Span: Pre-K - 5th
Maui Preparatory Academy
Grade Span: Pre-K - 12th
Lahaina Intermediate School
Grade Span: 6th - 8th
Resting on the west side of Maui, Kaanapali hosts the heart of all activities. Being the sunshine playground, golf courses, foot golf, stand up paddling, surfing, shopping, restaurants, sunsets or beach walks, the lifestyle are suitable to families, second homeowners, or investors.
For more Information about Ka'anapali, Get in Contact with Living Maui
For more information on buying or selling real estate in Ka'anapali, speak with Kimberly at Living Maui Real Estate on (808) 359-1161 and she will help you find the right home for you.
Work. Play. Live.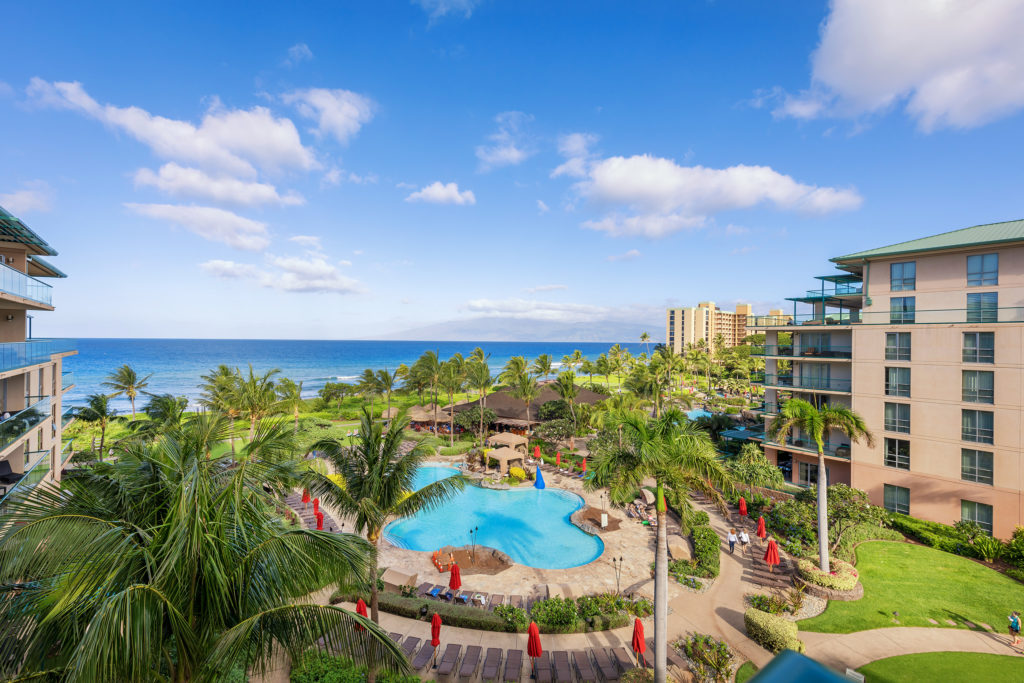 Honua Kai, Kaanapali Maui amenities include: Multiple Pools Oceanfront Fitness Center Spa Concierge Front Desk Onsite Management Team Short Term Allowed Stores Coffee Shops 40 Acres Dining Work. Play. Live. Come and explore our communities. If you have […]
Learn More
Luxury Living, in Hawaii, would put you right on Kaanapali Beach at the Kaanapali Alii Looking to purchase an oceanfront properties in Maui?  Kaanapali Alii has been a dream for travelers, owners, & guests. Kaanapali Alii,  know your neighborhood! Full resort amenities include: bellmen, concierge, front desk, beach assistance, security, additional storage, and a short walk […]