Is there still a coffee shop,
where the people sitting outside,
might actually greet you with a hello?
Welcome to Hawaiian Village Coffee!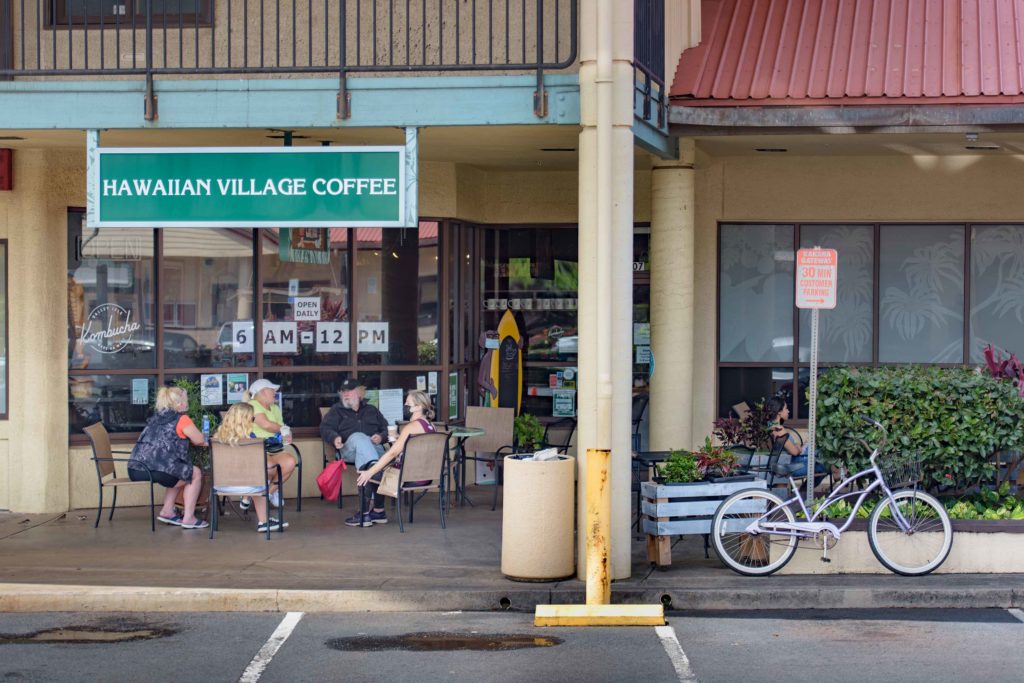 Your Local Napili-Kahana Coffee Shop!
A local's favorite, Hawaiian Village Coffee draws coffee lovers from both near and afar. Their friendly local service mixed with a great coffee makes for the perfect start to your Maui day. Featuring gourmet coffee and espresso drinks, with also plenty of quick and easy bites to eat or take with you; for both breakfast and lunch.  Locally owned and operated, it's likely you'll see long time owner Dave, and newer partner Suzanne, behind the counter each day greeting you; adding to what makes the ambience and great service of this shop so much more genuine and special.
Hawaiian Village Coffee Menu
Hands down, my favorite food is the avocado toast. The warm buttered bread is topped with fresh avocado and a hint of crunchy Himalayan salt. If you're looking for something heartier, I suggest the everything bagel, Meat and cheese croissant, or the Jeffy. Yep, the Jeffy is a breakfast plate with 2 eggs, avocado, tomato slices, and a heavily buttered bagel.
The Staff & Regulars - the ohana
Who doesn't enjoy being surrounded by smiling faces? The Regulars are extremely friendly and great for networking. There are a mixture of tourists, dedicated customers, and primary residents visiting. You'll enjoy people watching while guzzling your coffee.
Wait to be invited by warm owners and staff. Yes, the owners are working the barista, cleaning , & making guests feel welcome.
Right, at the coffee store there's warm and fulfilling coffee? Hot, iced, lattes, Americanos, oat milk, almond milk ... you name it!
Need a gift? Bring some local coffee home or wrap it as a present. For the discerning palate, there are various sizes, flavors, and prices. Check out the painting, local crafts, sunscreens, and more. The island vendors make gift giving easy for all occasions.
Hawaiian Village Coffee is located north of Ka'anapali in the Kahana Gateway Shopping Center within the Napili - Kahana Community.
Traveling North on Highway 30, you'll approach Ho'ohui Rd and see the McDonalds within the shopping center ahead and to your left, turn makai (toward the ocean) on Ho'ohui Rd and the shopping center is your first right.
Traveling South on Highway 30 from the Kapalua or Napili area you'll see the shopping center on your right, as you approach Ho'ohui Rd. There is a right hand-turn into the shopping center prior to the intersection.
The location is ideal with plenty of parking and convenient access in and out.
The next time you are near or around Kaanapali, head north to Hawaiian Village coffee. Please remember to contact Kimberly to join you for your next cup of coffee. Owner and principal broker of Living Maui Real Estate, Kimberly will assist with relocation, market statistics, or transitions of your real estate portfolio.
Featured Living Maui Real Estate Properties
Join Us For More of the Living Maui Lifestyle.
Send us your name and email and we'll send you our bi-monthly email updates; featuring everything our beautiful island of Maui has to offer!