Mala Ocean Tavern: A Delicious Outdoor Dining Destination
If you're looking for the perfect place for your next outdoor meal, look no further. At Mala Ocean Tavern you'll receive a warm welcome and experience oceanfront dining at its finest!
Nestled in the heart of Lahaina Town, Mala offers a Maui outdoor lunch venture like no other. With an open-air bar and casual exposed seating, this is the perfect place for brunch or dinner with friends and family. From the mouth-watering menu selections to the award-winning happy hour specials, there is something for everyone!
Mediterranean Foods
Mala's exceptional cuisine boasts the freshest ingredients with an array of delectable dishes to choose from. The menu features everything from tasty tapas-style starters and sharing plates to mouth-watering burgers and the finest, freshly caught seafood.
+ Lamb Pita
Warm Pita, Tzatziki, and Aioli
+ Ahi Bruschetta
Flax seed toast with island tomatoes, edamame, and balsamic
+Mahi Mahi Fish & Chips
Local catch beer battered served with malt vinegar & artichoke tartar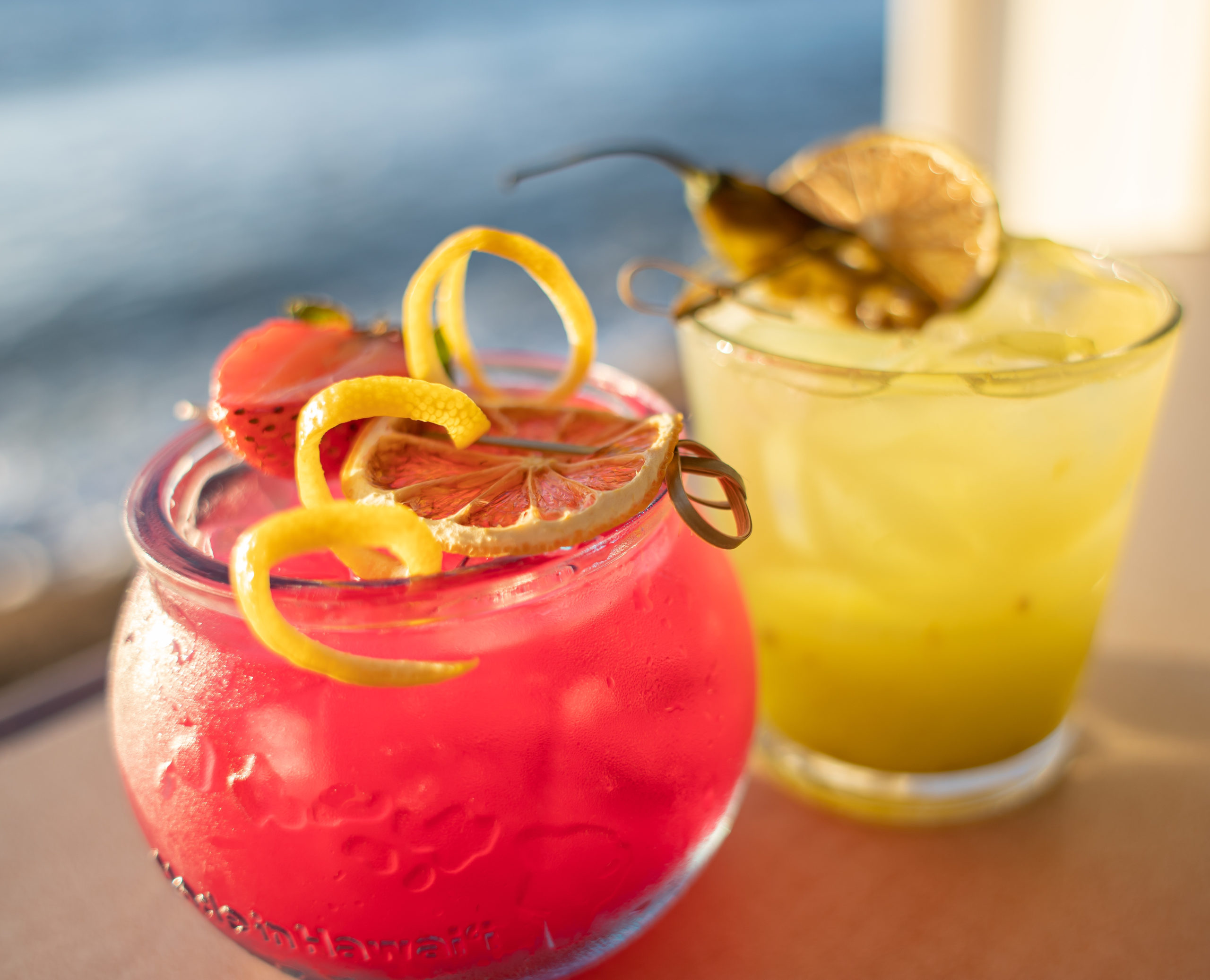 Dinner specialties are offered every evening and include amazing fresh fish dishes such the Mala Signature Seared Ahi with Yukon mash and snap peas in a shiitake mushroom ginger sauce. If fish is not your thing, then the Grilled Ribeye with Hua Momoma vegetables, parmesan truffle fries, and peppercorn butter is another of the winning dinner-time offerings.
Mala Ocean Tavern: A Delicious Outdoor Dining Destination Dinner Menu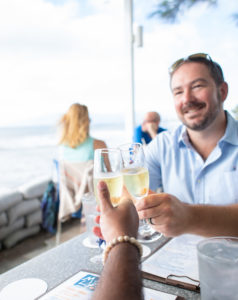 Overlooking the historic Mala Wharf, the oceanfront setting of this island gem is simply stunning. With the sights and sounds of turtles splashing in the waves, the spectacular sunsets, and the unforgettable views of Lana'i and Moloka'i islands, it's easy to see why the Mala has secured the award for 'Best Oceanfront Dining'.
The Mala Ocean Tavern certainly makes for an exceptional outdoor dining experience while you are in Lahaina, Maui. With a lively but laid-back atmosphere, it's the perfect place to gather with friends at any time of the day or night.
With limited restaurant space, it is best to make or reservation or call ahead of time.
Located off Honoapi'liani Highway (Highway 30) on the western lobe of Maui, the bustling port town of Lahaina has long been a favorite destination for those looking to soak up some of the island state's rich history. Filled with an eclectic and historic mix of art galleries and shops, there are some must-see Maui sights such as the old courthouse, the old prison, and the huge banyan tree which occupies a whole city block.
The Mala Ocean Tavern is situated right on the water's edge in the heart of Lahaina at the north end of Front Street, 1307 Front Street, away from the main tourist area.
From Lahaina : Take the Honoapiilani Hwy (30) North / West. After traveling through Lahaina, turn left on Front street. Located on the north end, 1307 Front Street,  look for Mala Tavern. Makai (toward the ocean). Destination will be on the left. It is directly behind the Lahaina Cannery Mall & Safeway.
With a rich history spanning decades and with different owners, the Mala Ocean Tavern was built in 1920 and was originally used as a pineapple weigh station. Later converted into a restaurant, its offerings in recent years have been everything from barbecue and karaoke to fine dining, until its current owners Caleb Hopkins, Javier Barberi, David Fincher, Julian Bonfardin, and Ashley Davis came together with a vision to breathe fresh new energy into Mala by bringing a unique style to oceanfront dining on Maui. After owning other restaurants in the Lahaina area, this has been another exceptional endeavor.
In December 2020, Maui-born nationally acclaimed Chef Alvin Savella (known throughout Maui as the 'Kitchen Assassin') was appointed Executive Chef for the restaurant and has begun to steer the Mala Ocean Tavern on a new journey with menus featuring an array of innovative dishes, all highlighting Hawaii's freshest produce and sourcing local proteins.
Living Maui Real Estate Featured Properties
Join Us For More of the Living Maui Lifestyle.
Send us your name and email and we'll send you our bi-monthly email updates; featuring everything our beautiful island of Maui has to offer!
If you are interested in more information on the real estate in the area, contact Kimberly. Owner and Principal Broker of Living Maui Real Estate, she will walk you through the statistics, contingencies, and escrow process for purchasing a Maui property.