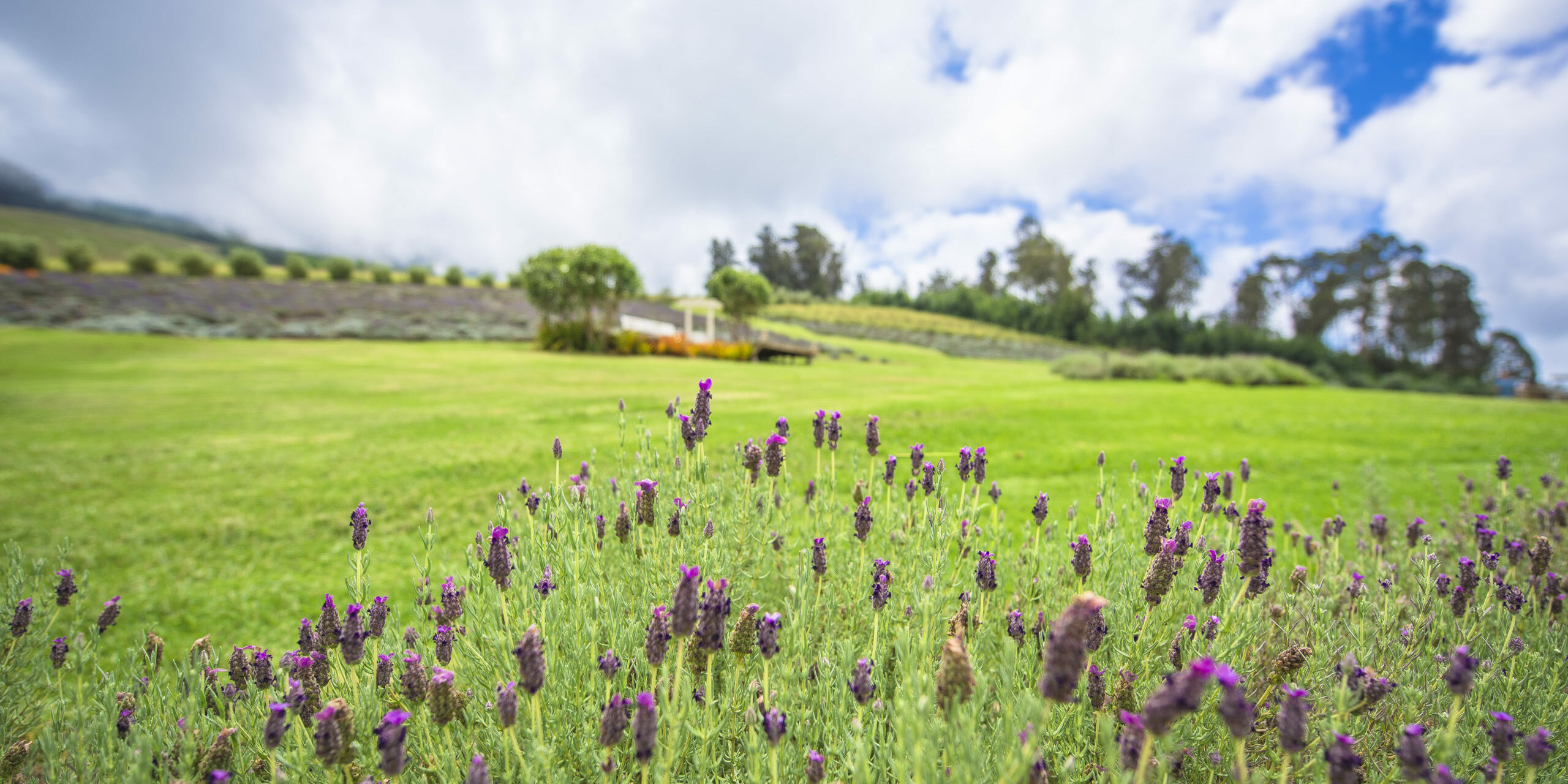 Exploring Upcountry Maui: Kula Lavender Farms & Tours
Childlike and in a dreamy state, the endless rolling hills of the landscape make the Kula Alii Lavender Farms a destination for both visitors and locals.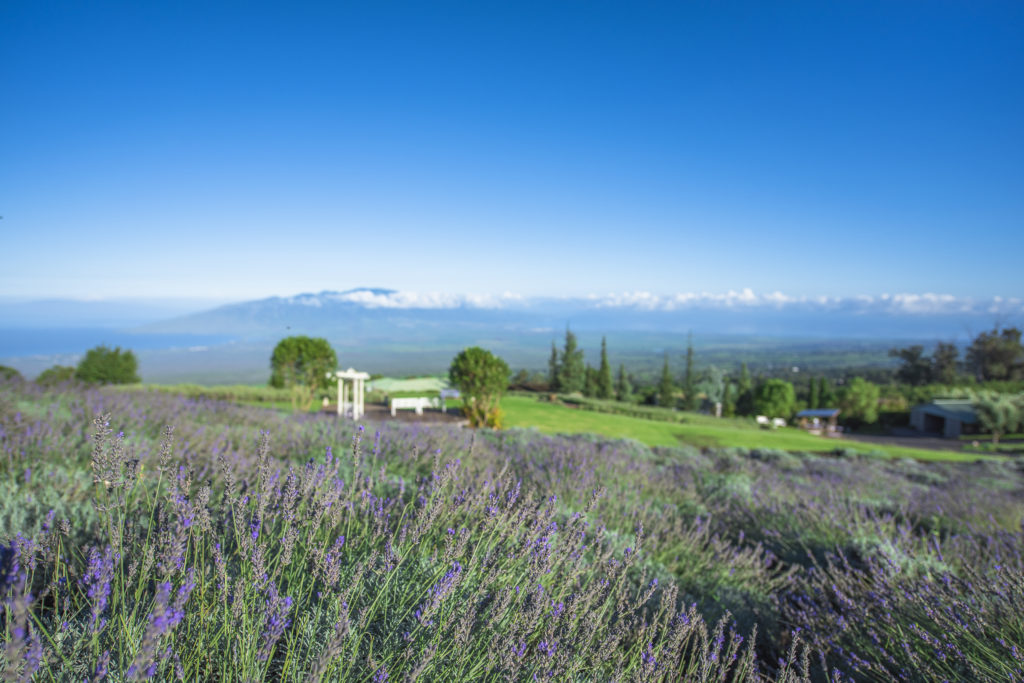 As you depart the shoreline and sandy beaches of Maui and venture inland toward the higher elevations surrounding the island's highest mountain - Haleakala - you will find yourself in Upcountry: the heartland of Maui. Upcountry is home to some of the prettiest and most fertile land on the island, and its primary town, Kula, is aptly named; literally meaning "pasture or field" in Hawaiian.
Kula is a quaint and charming place that feels worlds away from the more tourist-centric destinations on Maui's south and west shores. It is home to a diverse assortment of farms, artisans, and other small businesses, as well as a few restaurants and cafes. Several farms offer tours and visitors can learn about the different types of fruit, vegetables, flowers, or plants being grown in the area - and even sample them!
One of our favorite Upcountry attractions is Ali'i Kula Lavender. Nestled in the rolling hills above Kula, lies a land that is bursting with the color and fragrance of lavender.
Positioned at an elevation of approx 4000ft, the stunning 13.5-acre farm was founded by Agricultural Artist and Horticultural Master, Ali'i Chang. A friend gave lavender to Ali'i in 2001, which he then planted with intention of it eventually blossoming into the amazing work of art that is AKL today.
The farm offers the first and only Lavender Lifestyle experience on Maui and is home to around 55,000 lavender plants across 20 different varieties. And although lavender blooms naturally in summer, the farm grows 9 varieties that bloom all year round. A wide variety of other plants are in abundance on the farm including olive trees, hydrangea, protea, succulents, and many more.
As a lifestyle company founded on the principle of 'Aloha' (which means love, friendship, and responsibility) Ali'i Kula Lavender is both animal and earth-friendly and prides itself in producing products that enrich the quality of life by evoking joy, rejuvenation, comfort, and serenity. Every product is lovingly crafted using natural, botanical, and organic ingredients wherever possible.
Their wonderful lavender products can be found in many fine store locations across Hawaii and the U.S. mainland - full details can be found on the website.
There is plenty to do at the farm - whether you choose to take part in one of the many tours and activities on offer, or explore the farm on your own, you can be assured of a wonderful experience.
Lavender Treasure Hunt
On the 'Lavender Treasure Hunt' you can collect your Treasure Hunt Map and then begin searching for the hidden treasure as you journey through the Secret Garden, stroll along the Peaceful Path, and discover the lesser-known, yet magical parts of the farm. A prize awaits you at the end of the hunt too. Kids of all ages will love this - not to mention the adults!
Gourmet Picnic Lunch
A wonderful way to enjoy a tasty lunch while making the most of the idyllic outdoor setting. Choose from Chicken Caesar Wrap, Ham & Cheese Wrap, Caprese Sandwich, Chicken Bacon Club, Italian Sandwich, or Garden Salad. Gourmet Chips are included, plus a Lavender-Infused Dessert and your choice of beverage. Reservations are required at least 24 hours in advance.
Craft Classes
The farm is positioned in a prime position for many unique herbs and exotic plants to thrive. Seasonal crafting classes are offered throughout the year taking advantage of whatever's in bloom, from Herb Wreath Making in Summer to Holiday Wreaths in Winter. The website has a dedicated events section with all of the latest offerings for you to check out.
No visit to Ali'i Kula Lavender would be complete without a visit to the gift shop. There are some really beautiful lavender-themed gifts - if you're looking for unique items or a special souvenir to take home with you, this is the place to find it.
The farm is currently open on Fridays, Saturdays, Sundays, and Mondays from 10 am to 4 pm. Guided tours, gourmet picnic lunches, and treasure hunts are not available at this time but will be resuming, so keep an eye on the website for the latest updates.
The site is just a 30-minute drive from Kahului Safeway. Follow these driving directions to start your adventure:
From the airport take Highway #37 (Haleakala Hwy) for 13.5 miles to "Rice Park", a small park on the left side.
Turn Left at "Rice Park" (half a mile past mile marker 13). Then take the first right on "Waipoli Rd."
Drive along "Waipoli Rd." till you arrive at destination
Much more than a working lavender farm, this amazing place is, in the brand's own words, 'a botanical garden filled with the artifacts and collectibles that Ali'i gathered in his many years of travel and entrepreneurship'.
The vision is for Alii Kula Lavender Farms to support its community-based business model through agricultural education while playing its part in supporting sustainable economies through agritourism.
The next time you are near or around Lahaina or Kaanapali, please remember to contact Kimberly to join you for your next cup of coffee. Owner and principal broker of Living Maui Real Estate, Kimberly will assist with relocation, market statistics, or transitions of your real estate portfolio.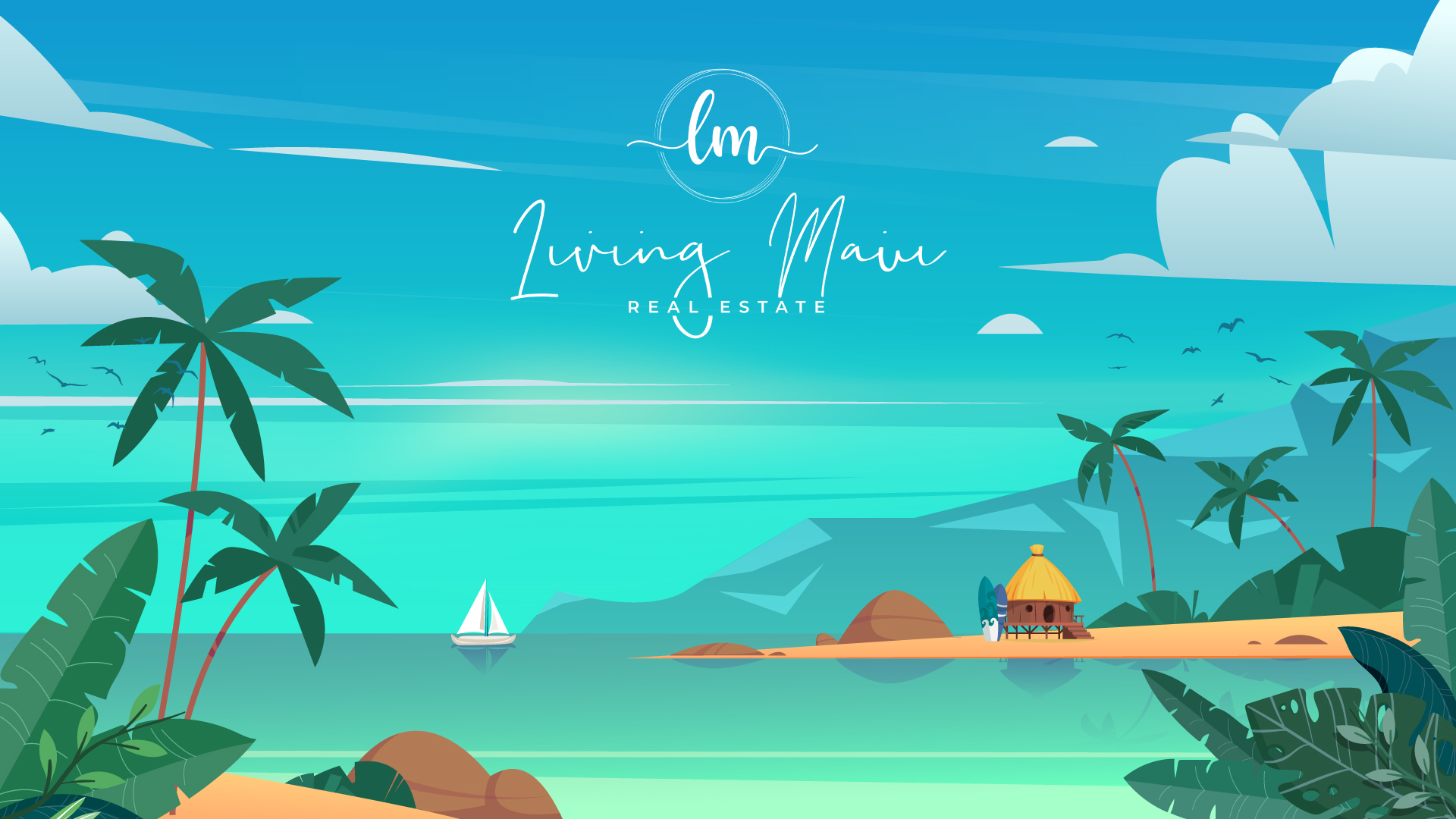 Upcountry Community at a Glance
| | |
| --- | --- |
| Number of properties in Kula Lavender Farms Maui: | 0 |
| Average price in Kula Lavender Farms Maui: | 0 |
| Average Sq Ft in Kula Lavender Farms Maui: | 0 |
| Average Price per Ft2 in Kula Lavender Farms Maui: | 0 |
| | |
| --- | --- |
| Number of properties in Kula Lavender Farms Maui: | 40 |
| Average price in Kula Lavender Farms Maui: | $3,026,550 |
| Average Sq Ft in Kula Lavender Farms Maui: | 2,351 |
| Average Price per Ft2 in Kula Lavender Farms Maui: | $1,287 |
| | |
| --- | --- |
| Number of properties in Kula Lavender Farms Maui: | 20 |
| Average price in Kula Lavender Farms Maui: | $1,027,425 |
| Average Sq Ft in Kula Lavender Farms Maui: | 0 |
| Average Price per Ft2 in Kula Lavender Farms Maui: | 0 |
Featured Upcountry Properties
Featured Living Maui Real Estate Properties
Listing courtesy of Living Maui Real Estate LLC
Join Us For More of the Living Maui Lifestyle.
Send us your name and email and we'll send you our bi-monthly email updates; featuring everything our beautiful island of Maui has to offer!