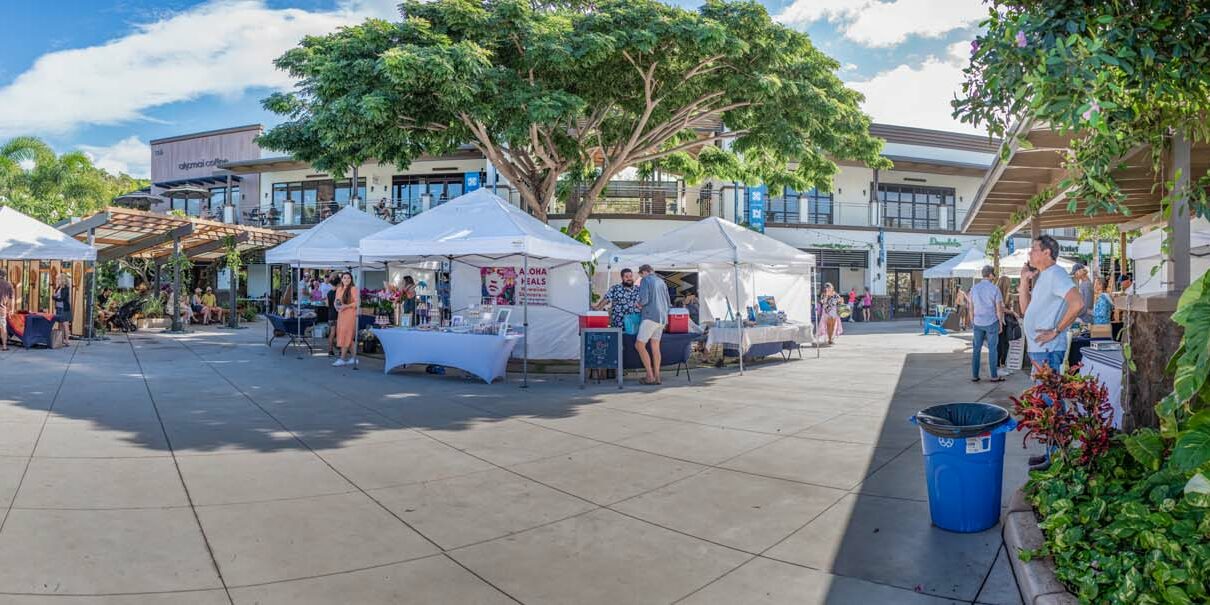 Open Every Tuesday Morning!  8:00 a.m. to 11:00 a.m.
Located in Wailea, Hawaii, Wailea Village Farmers Market is a vibrant outdoor market that takes place every Tuesday 8 am-11 am. Address is 100 Wailea Ike Dr, Kihei, Hi, 96753, and it's just a short drive from Wailea Resort and Kihei. Click Here for directions
Wailea Farmers Market - Something For Everyone!
Every now and again you find a place that just feels special. Wailea Village Farmers Market is definitely one of those places. No matter what you're looking for – whether it's unique souvenirs, delicious food, or just a fun way to spend an hour or two – the variety of vendors in attendance each week ensures there's something for everyone! Market is not only popular with tourists seeking out the best local products, but also with locals who are after fresh organic produce, plants, and locally sourced goods
Fresh picked Maui grown fruits and vegetables, locally sourced food and juices, and handmade jewelry and crafts are just a few of the highlights you can expect to find at this local gem.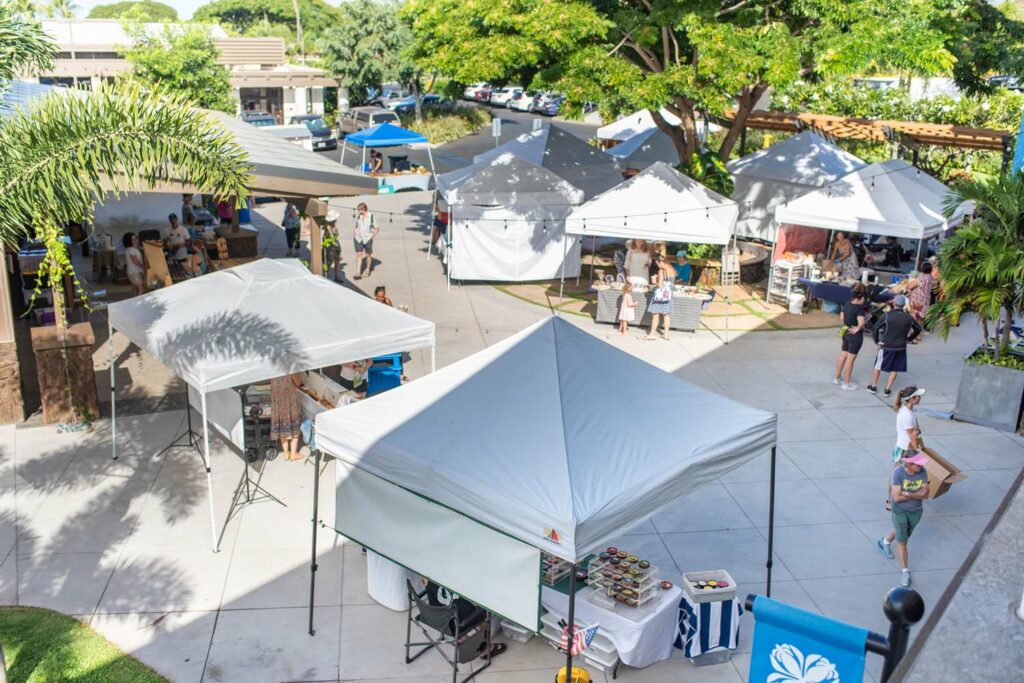 Wailea Village began with a vision of being a unique gathering place for the local community - facilitating the celebration and support of Hawaiian culture and the spirit of Aloha through local and family businesses. The Farmer's Market is just one of the events  that have evolved from that vision and is now a cherished weekly event that brings Wailea locals and visitors together.
Delicious and Healthy Food
One thing you won't want to miss at this farmers market is the food! The selection here is truly incredible; whether you're looking for something savory or sweet, there are plenty of options to choose from. You'll find a variety of delicious prepared dishes available like poke bowls, and Maui-style plate lunches. For the health-conscious, there are vendors offering a selection of organic and natural foods and snacks, from exotic fruits, fresh juices, and smoothies to homemade granola. If you're looking for a taste of authentic Hawaiian cuisine look no further than here.
Napili Farmers Market Craft Vendors Include:
Happily Ever After On Maui
VPho Vietnamese Cuisine
And More+++
Shop Produce and Crafts While Supporting Local Vendors
One of the best things about Wailea Village Farmers Market is that it supports local farmers and vendors in the area. It's not just about buying local produce – since its launch, the market has been a great place for locals to showcase their goods and services, while offering visitors a glimpse into the culture and rich heritage of Maui - celebrating the creativity of its many vendors, who sell everything from handmade jewelry, accessories and clothing to natural health and wellness products, artwork and home décor items. It's a great way to support the community while finding unique items crafted
by talented local artisans. And if you're a visitor to the island, it's the perfect place to grab a souvenir of your trip and take home a little piece of Maui with you
Its vast selection of goods and services makes Wailea Village Farmers Market a great place to explore and shop. With its vibrant atmosphere and friendly vendors, there's no wonder it's one of the most popular outdoor markets in Maui. Whether it's for the food, the atmosphere, or the unique products showcased each week, it's well worth a visit and is the perfect destination for sampling some of the best Maui has to offer.
Bring a reusable bag. While some vendors offer paper bags, it's best to be both eco-friendly and have plenty of space to load up on all the goods.
Go early. If there's something about farmers and waking up with the sun, same goes for farmers markets.  There are plenty of items on hand throughout the day at the Wailea Farmers Market. However, availability and the freshest produce can always be found by those who venture first.
Make Friends. The community and vendors are welcoming and open to talk story about their craft. It's worth it to ask questions, you never know what you'll discover.
100 Wailea Ike Dr
Wailea Farmers Market is located in the Wailea Village Shops, just auka (on the mountain side) of the the intersection at Wailea Alanui Drive and Wailea Ike Drive, above the Shops at Wailea
Traveling South from the Wailea area, you'll travel along Wailea Alanui Dr, making a right at the intersection and the Wailea Village Shops will then be immediatly on your right hand side.
Driving North from the Wailea or North Kihei area, you'll travel along either South Kihei Rd or Wailea Alanui Dr, making a left at the intersection of Wailea Ike Dr, and the Wailea Village Shops will be on your immediate right hand side.
Coming South from the Central Kihei area, take the Piilani Hwy, or Highway 31 south toward the Wailea area. Stay on Hwa 31 until the road forces a right hand turn, onto Wailea Ike Dr.  Continue down Wailea Ike Dr. The Wailea Village Shops will be on your left, just prior to the intersection with Wailea Alanui Dr.

Next time you are free on a Tuesday morning, in or around the South Maui area, join me at the Wailea Farmers Market. As the owner and principal broker of Living Maui Real Estate, I look forward to answering any of your Maui Real Estate questions and here to assist with relocation, market statistics, or transitions of your real estate portfolio.
- Kimberly Drechsel
Featured Living Maui Real Estate Properties
Listing courtesy of Living Maui Real Estate LLC
Join Us For More of the Living Maui Lifestyle.
Send us your name and email and we'll send you our bi-monthly email updates; featuring everything our beautiful island of Maui has to offer!