Temporarily Closed due to the Lahaina Wildfires
Best Acai Food Truck in Maui
A little gem of a food truck in Lahaina, Baya Bowls offers the perfect option for those looking to fill themselves up with something healthy, nutritious and delicious.
Described as crave-able on many online reviews, you'll find both tourists and locals alike returning many times throughout any given week to enjoy the fresh acai and local fruit offerings.
Hours:
Open Daily!  8:00 a.m. to 3:00 p.m.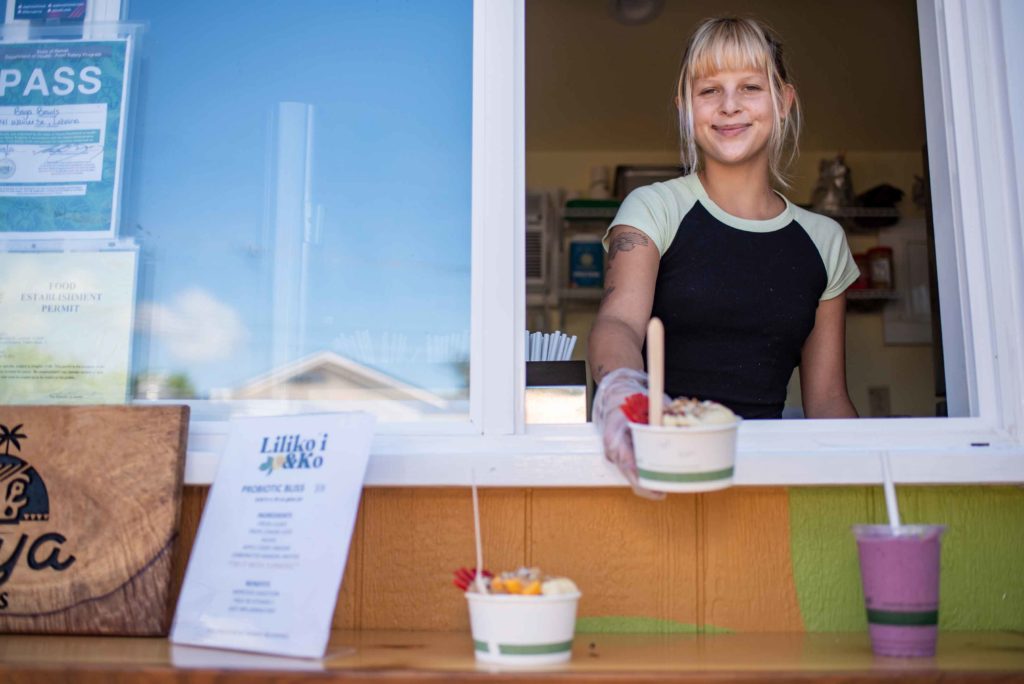 Acai Bowls and Fruit Smoothies are the specialty at Baya Bowls, all made with fresh healthy ingredients and always served with a smile.
Baya Bowl sources a variety of fresh local produce, allowing you to create your own personalized island favorites. Freshness is key. So you won't find anything out of the freezer here. And creating your Maui inspired bowl is easy. The acai blend of is mixed fresh throughout the day and tropical fruit toppings include items such as Pineapples and Papaya.
Another customer favorite, when in season, is also to add Lilikoi, or Passion Fruit. A highly recommend item that you often won't find elsewhere.
Acai Bowls:
Original Acai Blend Topped with Organic Banana, Strawberry, Toasted Coconut & Raw Honey
Small $10  Large $12
Additional toppings include:
 $.75 - Almonds, Pineapple, Chia Seeds, Papaya, Peanut Butter, Kiwi, Coconut Oil, Hemp Seeds
$1 - Goji Berries, Macadamia Nuts, Bee Pollen, Cacao Nibs, Almond Butter
*current menu and pricing as of 2/28/22 - always subject to change
Smoothies:
Tahiti Lime |  $7.50
Pineapple, Mango, Mint, Kale, Spinach, Chia Seeds, Apple Juice Lime
PB&J  |  $7.50
Strawberry, Blueberry, Blackberry, Banana, Raspberry, Soy Milk, Organic Peanut Butter
Breakwall  |  $7.50
Mango, Pineapple, Strawberry, Banana, Apple Juice, Lime
Coco Mango  |  $.750
Banana, Mango, Toasted Coconut, Coconut Milk, Cinnamon
Superfood  |  $8.50
Acai, Blueberry, Blackberry, Strawberry, Banana, Raspberry, Kale, Spinach, Apple Juice, Chia Seeds
Rise & Grind  |  $8.50
Cold Brew Coffee, Chocolate Vegan Protein, Banana, Organic Peanut Butter, Almond Milk - add Cacao Nibs $1
Orange Dreamsicle  |  $8.50
Fresh Squeezed OJ, Almond Milk, Raw Honey, Mango, Banana, Ginger, Local Bee Pollen
Additions: Green Spirulina $1 |  Fresh Ginger $1  |  Vegan Protein $2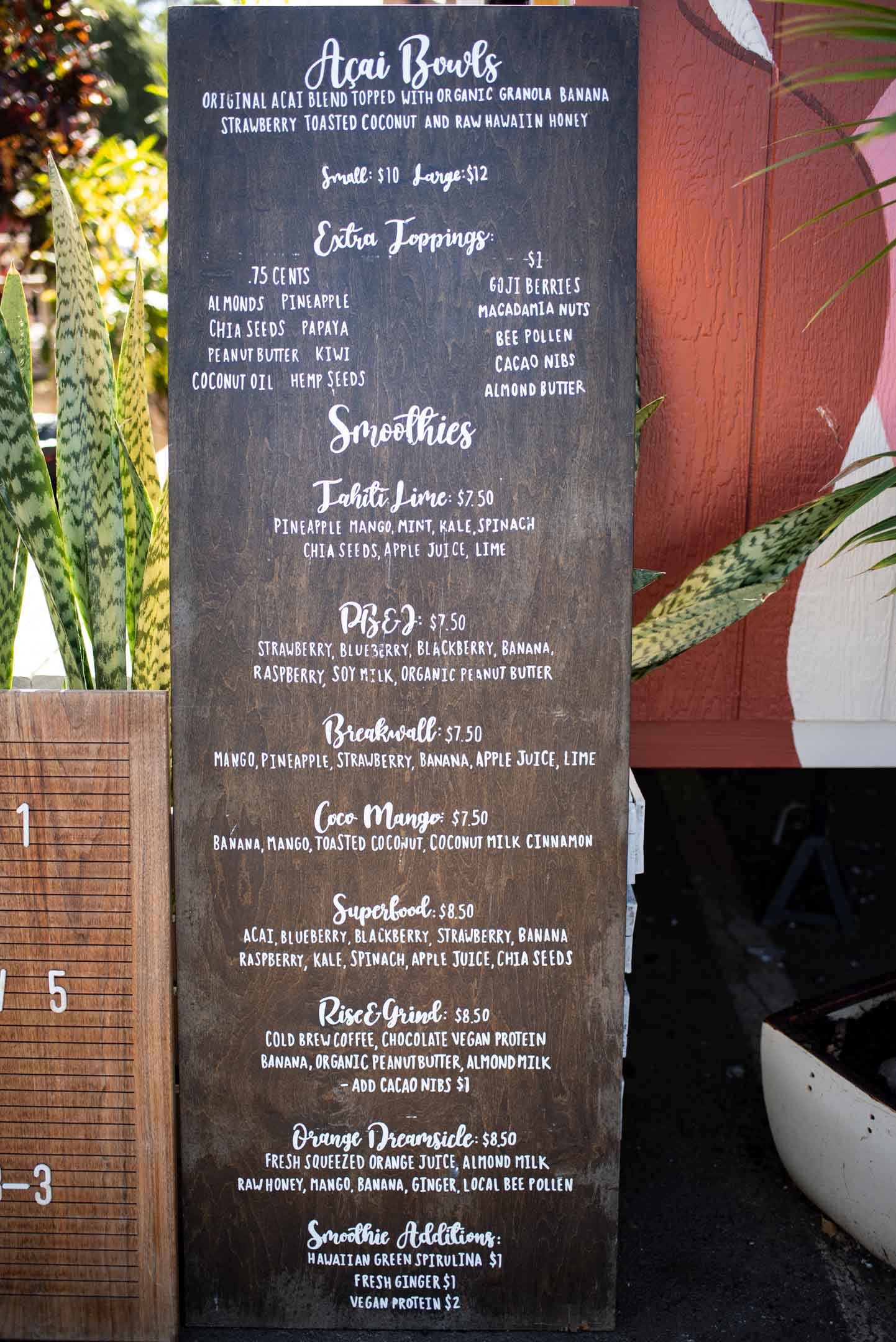 The environment at Baya Bowls is casual at best. If you arrive in your slippahs and boardshort or bikini, you're at the right spot. A handful of food trucks dot the off-street parking lot, where you can find both your free and easy going tourists and locals grabbing their perfect and quick morning or afternoon boost.
The location is located right within the heart of Lahaina town, within walking distance to Front St and local places to stay such as Aina Nalu and Pioneer Inn.
Additional Vendors in the lot include:
TaquerEATa Tacos
Cusina Ni JayBoy
Las Islitas Mexican Food
What happens when you find yourself with an overwhelming passion and the taste buds for fresh yummy acai bowls? You go into business serving them for yourself!
Baya Bowls owner Ceone Najima's journey led her from Oregon to Maui, via University of Hawaii on Oahu, where during her education in Environmental studies there, she found herself working at a local health café.  All where the inspiring thought began.
In 2015, after traveling and a brief return to Oregon, Ceone found a food truck for for sale on the island, and Baya Bowls was born.  Fast forward over six years later, countless acai bowls served, a new and larger food truck, an amazing staff and countless local fans,  and Baya Bowls is as popular as ever.
Consider Ordering Ahead. Baya Bowls welcomes texting or calling your order.
Get it To Go. Seating is limited.  There is one table per food truck, so if you go during prime breakfast or lunch hours you may not find a seat. It's just a short walk to the Lahaina harbor, break wall or banyan tree, which are all great spots to enjoy a Baya Bowl with a friend.
Lahaina can be hot. Shade is limited so bring those hats and apply some sunscreen
Parking Lot Area of 741 Waine'e St, Lahaina
*Food Truck locations always subject to change
Baya Bowls is located along Waine'e St, which runs just one block makai (on the ocean side) of the Honoapiilan Hwy (highway 30) as you're headed through Lahaina Town.
Traveling South from the Ka'anapali area, look for the main intersection of Lahainaluna road and the Honoapiilani Hwy, near the base of the giant smoke stack. Turn right, or toward the ocean. At the very next intersection with Waine'e St take a left.  Baya Bowls will be two block down on the right.
Traveling North through Lahaina from the Olowalu area (via the Honoapiilani Hwy), as you enter into town, look for the intersection of Dickinson St and the Honoapiilani Hwy. A gas station will be on your right. Turn left, or toward the ocean. At the very next intersection with Waine'e St take a right.  Baya Bowls will be less than half a block down on the left.
Parking can be difficult at times. Additional parking can often be found along Dickinson St and South on Waine'e St.
The next time you're looking for a Maui Food Truck adventure, reach out and and join me. As the owner and principal broker of Living Maui Real Estate, I look forward to answering any of your Maui Real Estate questions and here to assist with relocation, market statistics, or transitions of your real estate portfolio.
- Kimberly Drechsel
Featured Living Maui Real Estate Properties
Listing courtesy of Living Maui Real Estate LLC
Listing courtesy of Living Maui Real Estate LLC
Join Us For More of the Living Maui Lifestyle.
Send us your name and email and we'll send you our bi-monthly email updates; featuring everything our beautiful island of Maui has to offer!