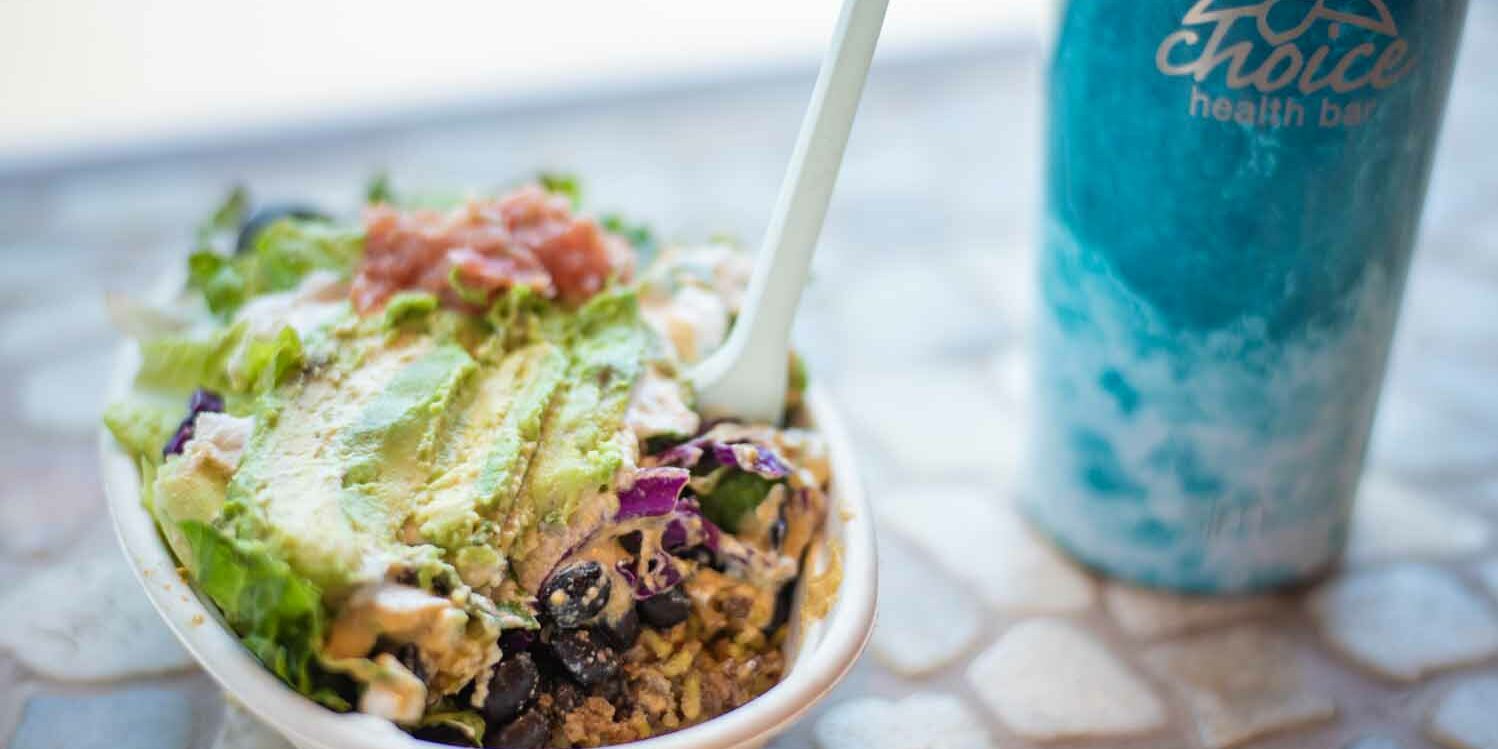 Lahaina |  Ka'anapali | Paia
West Maui's Pioneers of the Healthy Food 
At a time when health bars were considered on the fringe, Choice Health Bar's once unique concept has grown beyond their passion. Into a thriving community of food conscious individuals.
With over a decade of experience behind them and a still growing customer fan base, Choice Health Bar's mission to bring plant based positive energy cuisine to the islands' residents and tourists, is still growing stronger than ever.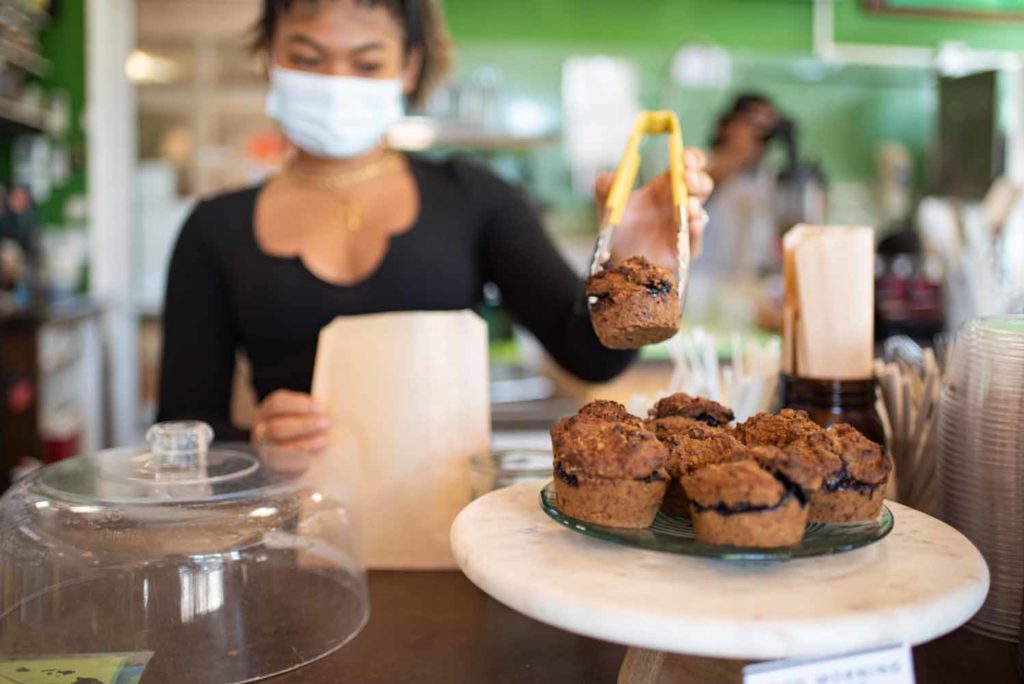 Lahaina
open 8 am to 3pm Daily
Ka'anapali | Whalers Village
open 7am to 9pm daily
Paia
open 9am to 4pm daily
Fresh. Local Farms. Organic. Non-gmo.
The perfect alternative to the bar and coffee shop scene, Choice Health Bars' menu reflects the growing trend toward healthy, good-for-you, food.
Committed to quality and community, a majority of menu items are made with product that comes directly from local farms here on the island.  Always fresh.
And talk about bananas. These restaurants go through over a thousand pounds of organic bananas weekly. Just an example of how much fresh produce is sourced to create their amazing cuisine.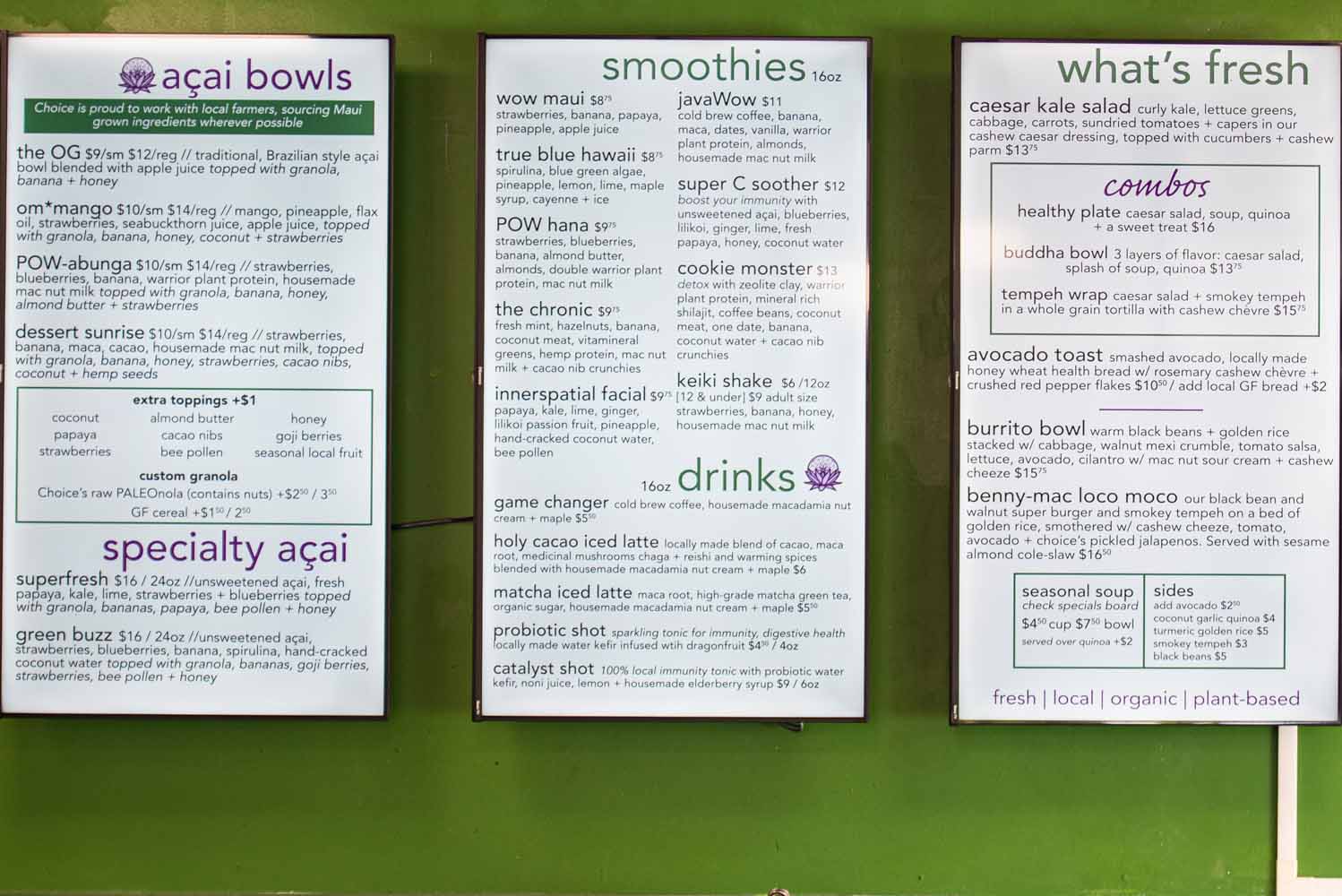 Highlights of the Menu at Choice include:
Acai Bowls
Made from a blend of Acai and their own fresh frozen mix of local berries, these bowls are raved upon by fans.  The acai bowls can be blended with items like spirulina or fresh coconut water, and topped with multitude of island fruits and flavors.
Smoothies
Blended on the spot from all local organic ingredients and customizable to just how you like it.
Hot and Cold Drinks and Shots
Cold brewed coffee to get you going. Or alternative blended drinks featuring Cacao or Matcha. Shots including Noni and Turmeric are also available and cheers to your health.
Grab-n-Go Items
Fresh pressed juices. Chocolate chia mousse. Twist on a Twix Bar. Lots of culinary creations available in their take out fridge for a healthy bite on the go.
*current menu and pricing as of 3/11/22 - always subject to change
A Bummer Free Environment
Cool, relaxed, down to earth, dare we almost say hip, are the words that could be used to describe the environment at Choice Restaurants. The locals and patrons come in all shapes. From the guy stoking off his surf session at Ho'okipa or Launiupoko, to the corporate executive taking a break from their busy routine.
The staff are awesome. You'll see this mentioned several times throughout online reviews.  The enthusiasm of employees at Choice Health Bar can be seen in their service full of smiles, laughs and love.
Choice restaurant also showcases the community. From artists, to jewelry, to additional culinary creations.
Examples of some Local Artists and Artisans include:
Choice Health Bar History
In an article by Maui No Ka Oi Magazine, you can read the story of the two owners, Kathryn Dahm and Emily Kunz, pushing a refrigerator half way down the highway into what became and still is the original Lahaina location; and main production hub of the Choice Health Bar brand. This was the start of everything back in 2011. While unfortunately the refrigerator has since retired, they've won over half dozen Aipono Awards for their restaurants' achievements since then, and that friend helping them push the monstrosity through traffic, is now the head manager . An example of how close this restaurant family has remained throughout its growth.
A history of commitment to community has also been a cornerstone of the strong Choice Brand. Handing out free turmeric shots during the pandemic, being the first to partner with a nearby startup recyclable utensil composting company, Choice has always been on the forefront of a support local mindset.
From the original location in Lahaina, to their Paia store opening in 2018, a secret to success has been to never stay comfortable, always be innovative. Give customers a Choice in exactly what they want to eat.
What's In Store for Choice
A recently launched online store features Choice products as well as many local vendors. Allowing visiting fans to stay connected, and supplied with their favorite merchandise. Additional possibilities on the horizon also include dinner service in Paia, potentially a food education kitchen at that location, and a continuing dream of theirs we'd love to see; a cookbook!
Asking owner Kathryn about how she manages her work and home life, she replied with a very honest answer, " it's a challenge to find balance when you care about your business so much." This passion was apparent during the discussion as the line at the cash register grew in size, and her ability to resist jumping in to help the staff just couldn't be contained. Despite this enthusiasm she did confess that a new husband and finding some time to work on their own family farm helps keep the symmetry these days.
It will be exciting to see what's ahead for the Choice family over the next decade. And I look forward to following along.
Highly recommend trying the Acai bowls. They are some of the best on island and the toppings are always amazing.
Online ordering is easy. If you're on the move or just looking to avoid the line, this is an easy way to get some fresh food fast.
Choice is all about giving you options. If you want something added or removed from any menu item, don't hesitate to ask.
1087 Limahana Pl  |  Lahaina Maui 96761
Choice Health Bar in Lahaina is located in the middle of town, just a block mauka (or in the mountain direction) off highway 30.
Driving from either the Ka'anapali or Launiupoko, look for the intersection of Hwy 30 and Hinau Street. Keep an eye out for a big beach and surf rental store on the SE corner.
Turn mauka (or towards the mountain) on Hinau St, followed by an immediate left on Limahana Place. Choice Restaurant will be located on your left.
Free parking is available along Limahana and in the parking lot fronting the restaurant.
11 Baldwin Ave  |  Paia Maui 96779
Choice Health Bar in Paia is located in the heart of town, just mauka (or in the mountain direction) of the Hana Highway along Baldwin Ave.
Driving along the Hana Hwy from either the Hana or Kahului directions, look for the major and only lighted intersection in town, which connects with Baldwin Ave.
Turn mauka (or towards the mountain) on Baldwin Ave. Choice Restaurant will be located about one block up on the left.
Paid and free parking can be found along Baldwin Ave, which can be congested during peak times.
Whalers Village Ka'anapali
2435 Ka'anapali Parkway | Whalers Village | Lahaina Maui 96761
Whalers Village Shopping Mall is located about half way between Lahaina Town and The Napili area on Highway 30.  Coming from the North or South, look for the major intersection of Ka'anapali Parkway and Highway 30.
Turn makai (or towards the ocean) on Ka'anapali Pkwy. About halfway down Ka'anapali Pkwy on the left hand, or makai, side of the road, you'll see the Whalers Village Shopping Center. Just past the mall, you'll make a quick u-turn.
Paid, and validated, parking will be on your immediate right, or makai, side of the road; adjacent to the mall.
The next time you're interested in enjoying a healthy organic local organic lunch or breakfast, reach out and and join me. As the owner and principal broker of Living Maui Real Estate, I look forward to answering any of your Maui Real Estate questions and here to assist with relocation, market statistics, or transitions of your real estate portfolio.
- Kimberly Drechsel
Featured Living Maui Real Estate Properties
Listing courtesy of Living Maui Real Estate LLC
Listing courtesy of Living Maui Real Estate LLC
Join Us For More of the Living Maui Lifestyle.
Send us your name and email and we'll send you our bi-monthly email updates; featuring everything our beautiful island of Maui has to offer!