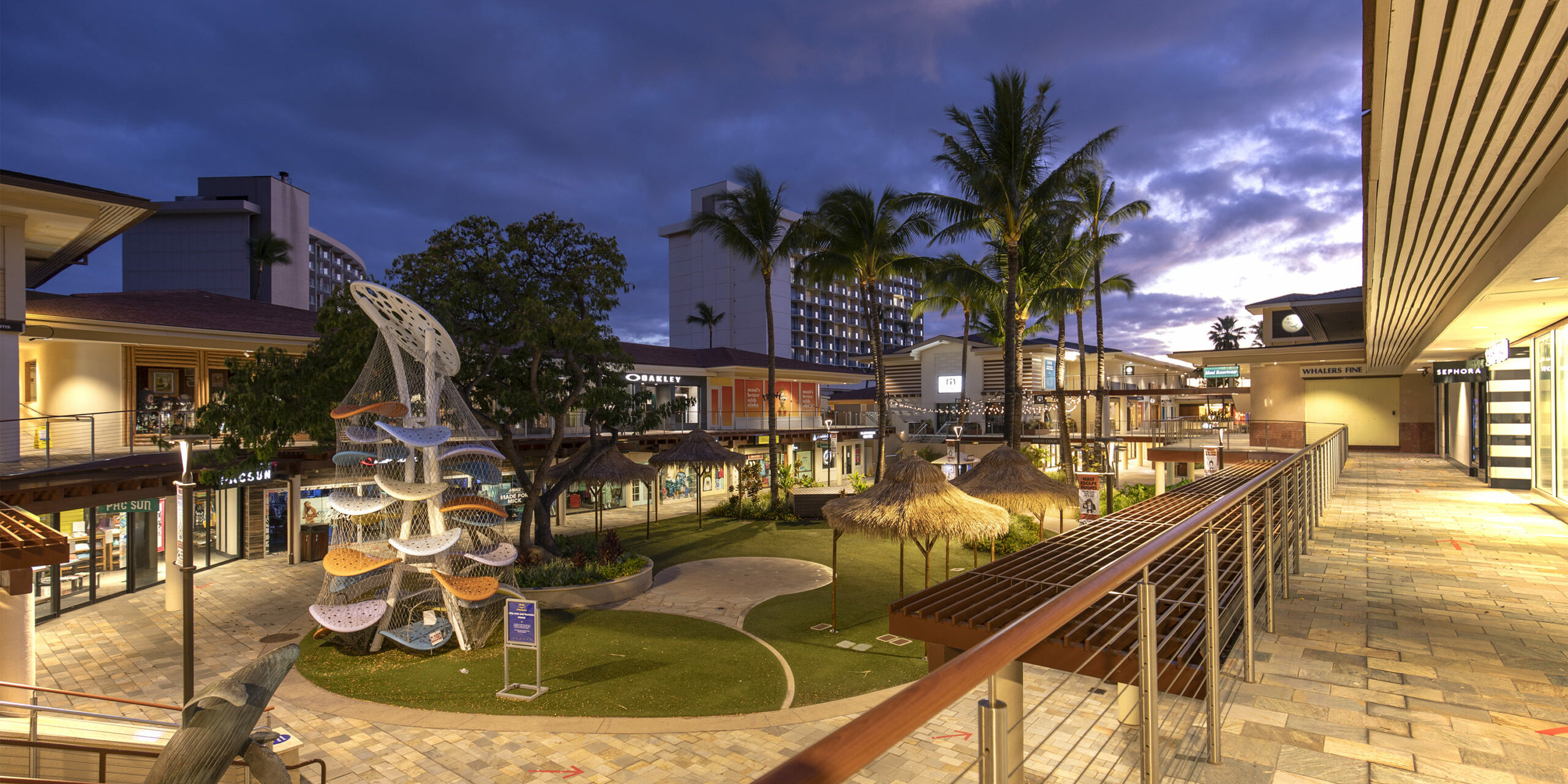 Whalers Village Kaanapali
For a truly unique and scenic shopping and dining experience located right on Ka'anapali Beach, 'Whalers Village' Kaanapali is the island's Premier Oceanfront Retail Center. The three-level, open-air venue has 85+ different specialty boutique and upscale retail stores, restaurants and cultural activities the whole family can enjoy. While watching the sunset, maybe see a humpback whale…
Cultural History
Whalers Village Kaanapali  first opened in the year 1970 and since then; over 3.5 million people now visit the popular Oceanfront Retail Center per year. Shop, eat dine and enjoy the beach and sunshine in Kaanapali.
In addition to over 85+ retail store and restaurants, Whalers Village is home to the Whalers Village Museum, a museum dedicated to the Hawai'ian history and cultural significance of whales when the area was a busy whaling harbor in the 1800's, as well as the future of whales, today.
In 2015, the Whaling Museum was ranked the third most-visited attraction on the island of Maui, hosting exhibits such as whaler's living quarters, models of whaling ships and whale fossils.
Although the Whaling Museum no longer exists, one of the crowning exhibits is the skeletal remains of a 4-foot Sperm Whale. It can be seen at the entrance to the Shopping Center.
Ka'anapali Beach
Whaler's Village is located right on Ka'anapali Beach, between the Kaanapali Alii and the Whaler condominiums.
A spectacularly beautiful three-mile stretch of beach with white sand and crystal clear water, Ka'anapali Beach has been touted "one of the best beaches on Maui", and even in America.
The swimming is glorious and there is plenty of space to surf and sunbathe, so you can meander between shopping, eating or drinking whilst overlooking the sunset at one of the many oceanfront restaurants.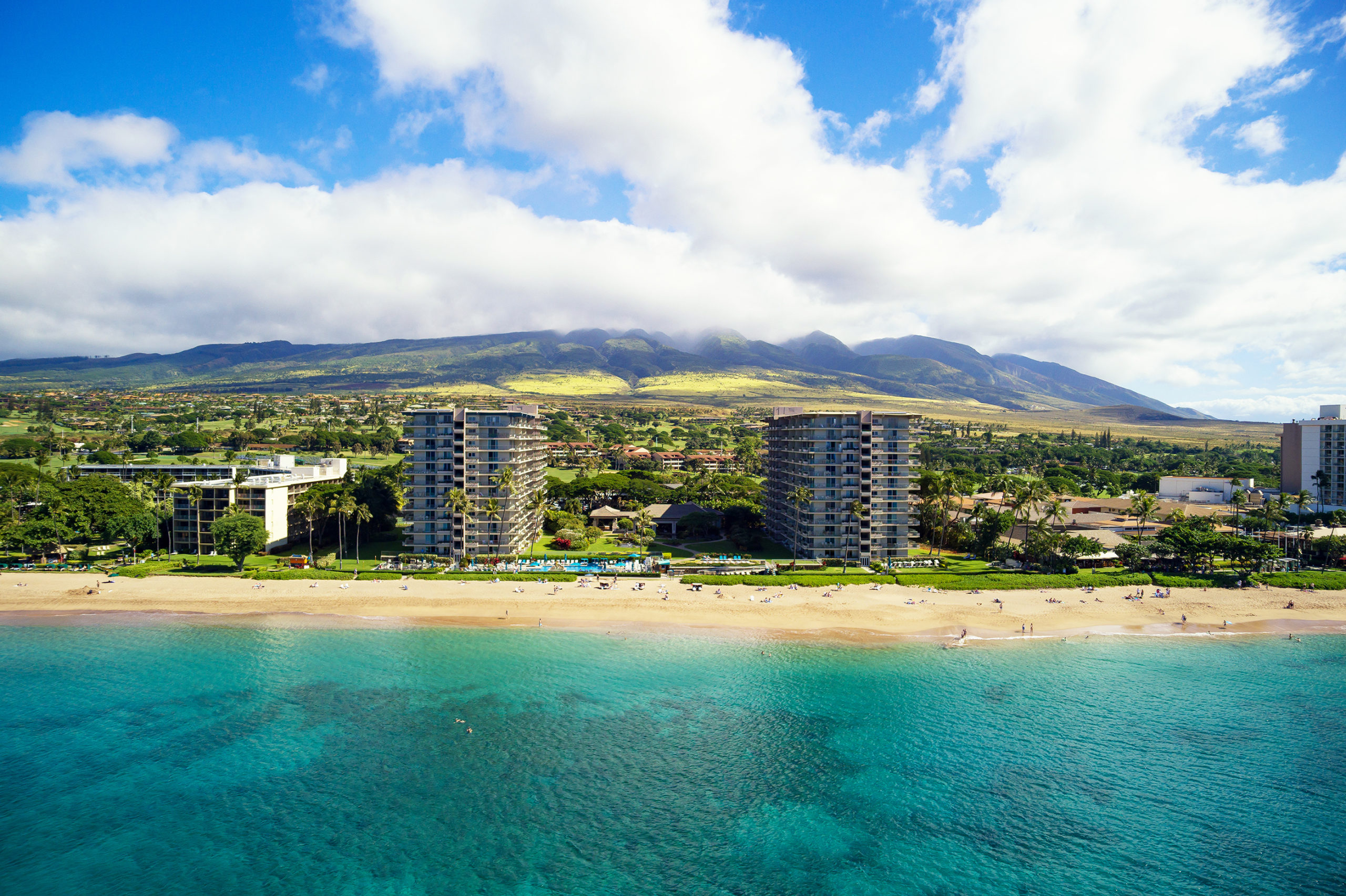 Oceanfront Restaurants
Enjoy picture-perfect sunset ocean views of Moloka'i and Lana'i while dining at any of the Oceanfront Restaurants at Whaler's Village…
Hui Hui offers the freshest line-caught local fish, all-natural meats and Maui grown produce from family-owned farms.
Monkeypod delivers everything from live local music, culinary cocktails, day boat fish or a slice of cream pie - there's something for everyone.
Leilani's on the Beach serves award-winning Hawai'i Regional Cuisine such as long-line caught fresh fish, all-natural cuts of meat prepared island style, seafood, cocktails and craft beers.
Stores
For convenience, there are around 70 retail shopping stores at Whaler's Village, including designer and larger apparel brands such as Louis Vuitton, Tommy Bahama, Pacsun, Lilly Pulitzer, Honolua Surf Co., Volcom, Billabong, Ripcurl and Quiksilver/Roxy.
There are also some other fine jewelers, home, beauty, gift, art and specialty stores including Tournea, Na Hoku, Keani Hawai'i, Sephora, Oakley, Soha Living and ABC Stores - plus many, many more!
Activities and Events
The center offers a variety of complimentary activities, classes and events inspired by Hawai'ian tradition - from ukulele lessons to hula shows and traditional Hawaiian lei making.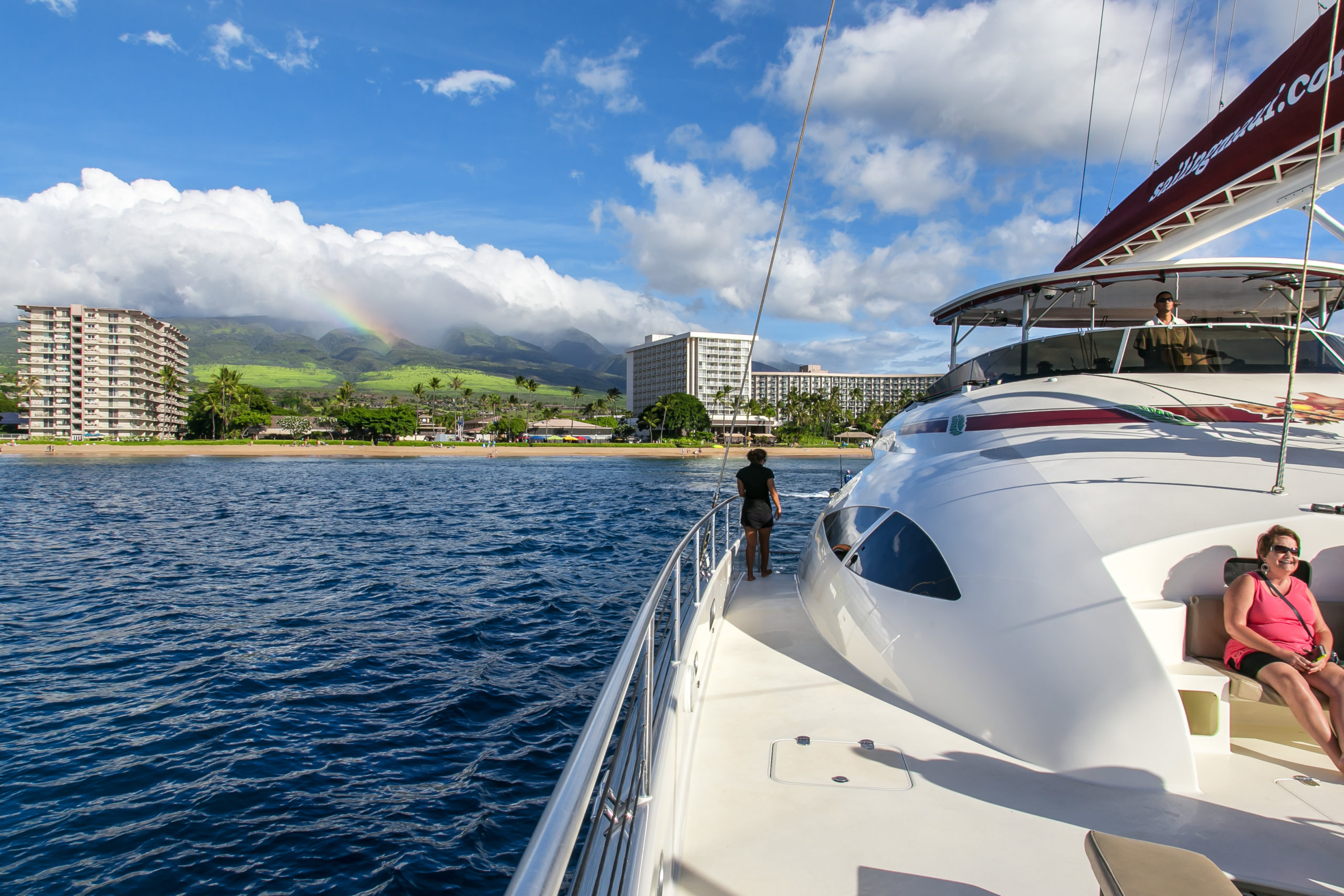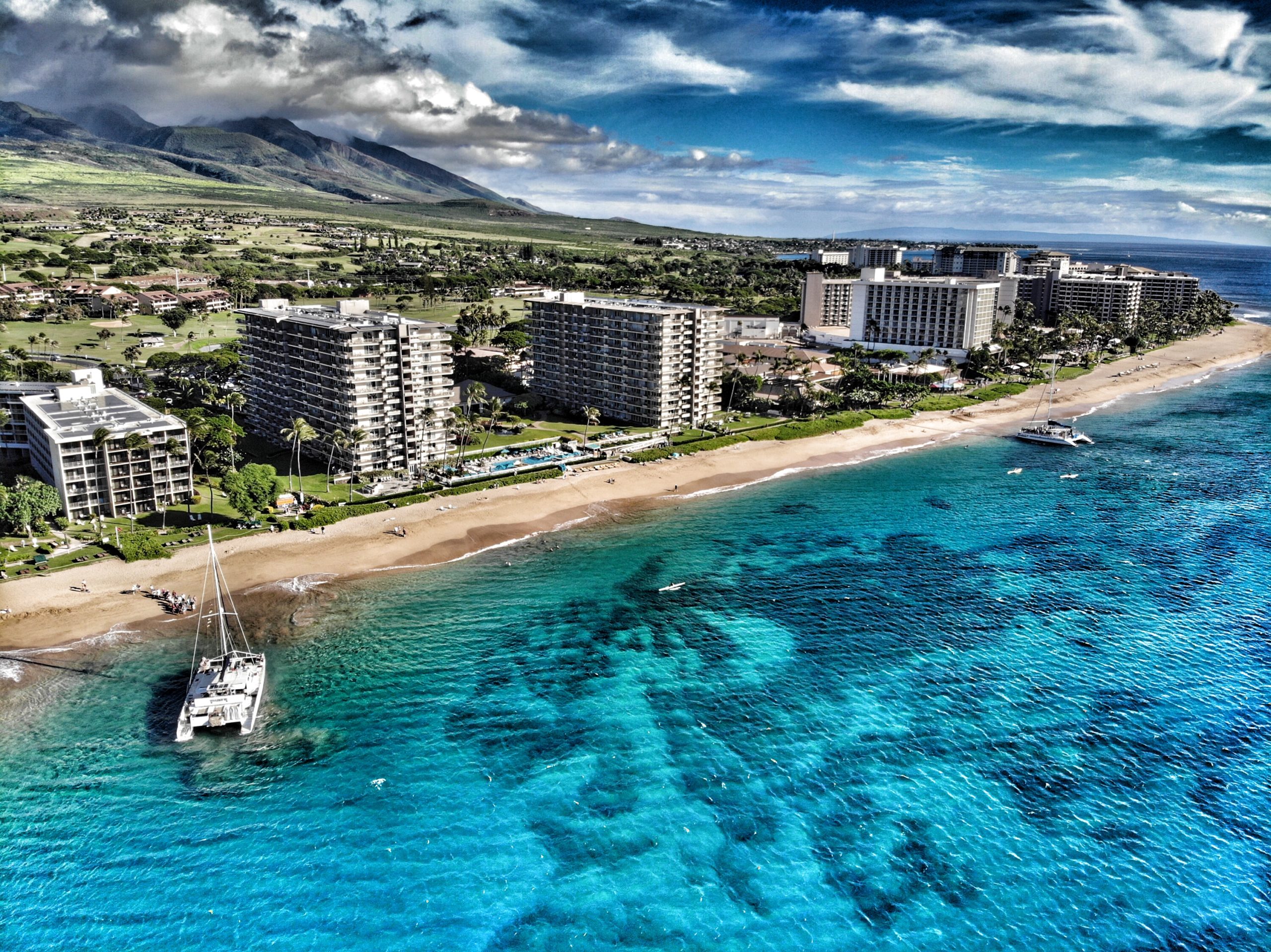 Other Services
Whaler's Village also offers a variety of other services and amenities – from free wi-fi to children's play areas and stroller rentals – to ensure you have a relaxing experience.
Click here to see their list of additional services
Hours
Whaler's Village is open daily from 11 a.m. to 7 p.m.
Friday and Saturday nights are open until 8pm.
From Kihei / Maalaea /Lahaina / Kaanapali: Take the Honoapiilani Hwy (30) North / West. After traveling through Lahaina, look for the light at Kaanapali Parkway. Take a left at Kaanapali Parkway Road and drive approximately a quarter mile. Destination will be on the left, Whalers Village
Transport
There are many ways you can get to Whaler's Village, including…
Kaanapali Trolley / Bus
Catch the complimentary Kaanapali Trolley (808-667-0648) or get on the Maui Bus Public System, "Ka'anapali Island #28 route". Bus routes are $2 per boarding.
Click here for public bus information
Driving
Whaler's Village is just a 5 minute drive from Kapalua West Maui Airport, and 10 minutes from the historic town of Lahaina.
Public Parking
Entrance to the Whaler's Village multilevel parking garage is located on Ka`anapali Parkway, where over 500 parking spaces are available at a rate of $3 per 30mins.
However, you can get up to 3 hours of complimentary parking with validation from any of the stores or restaurants.
Living Maui Real Estate Featured Properties
Listing courtesy of Living Maui Real Estate LLC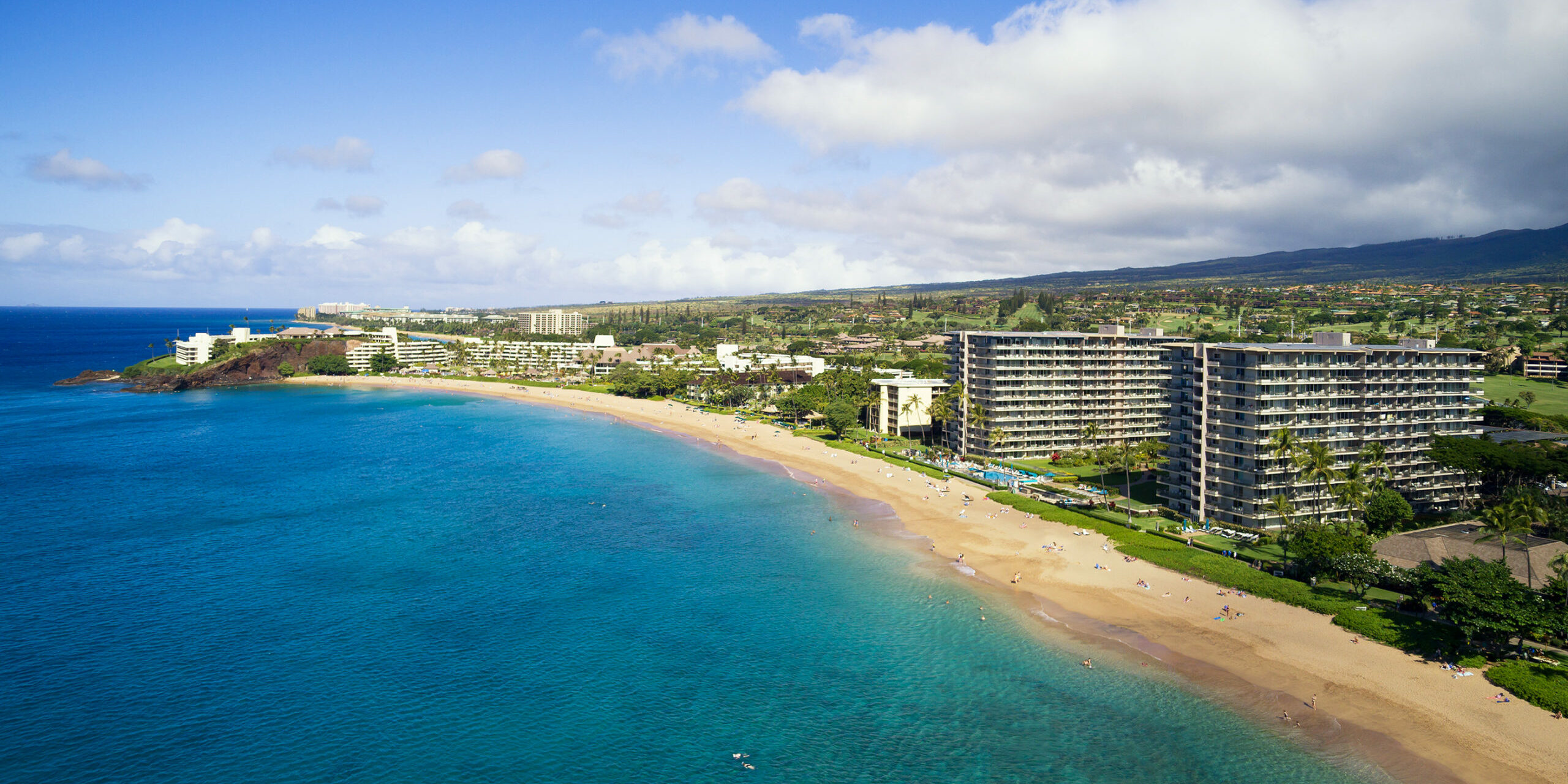 Join Us For More of the Living Maui Lifestyle.
Send us your name and email and we'll send you our bi-monthly email updates; featuring everything our beautiful island of Maui has to offer!
If you are interested in more information on the real estate in the area, contact Kimberly. Owner and Principal Broker of Living Maui Real Estate, she will walk you through the statistics, contingencies, and escrow process for purchasing a Maui property.