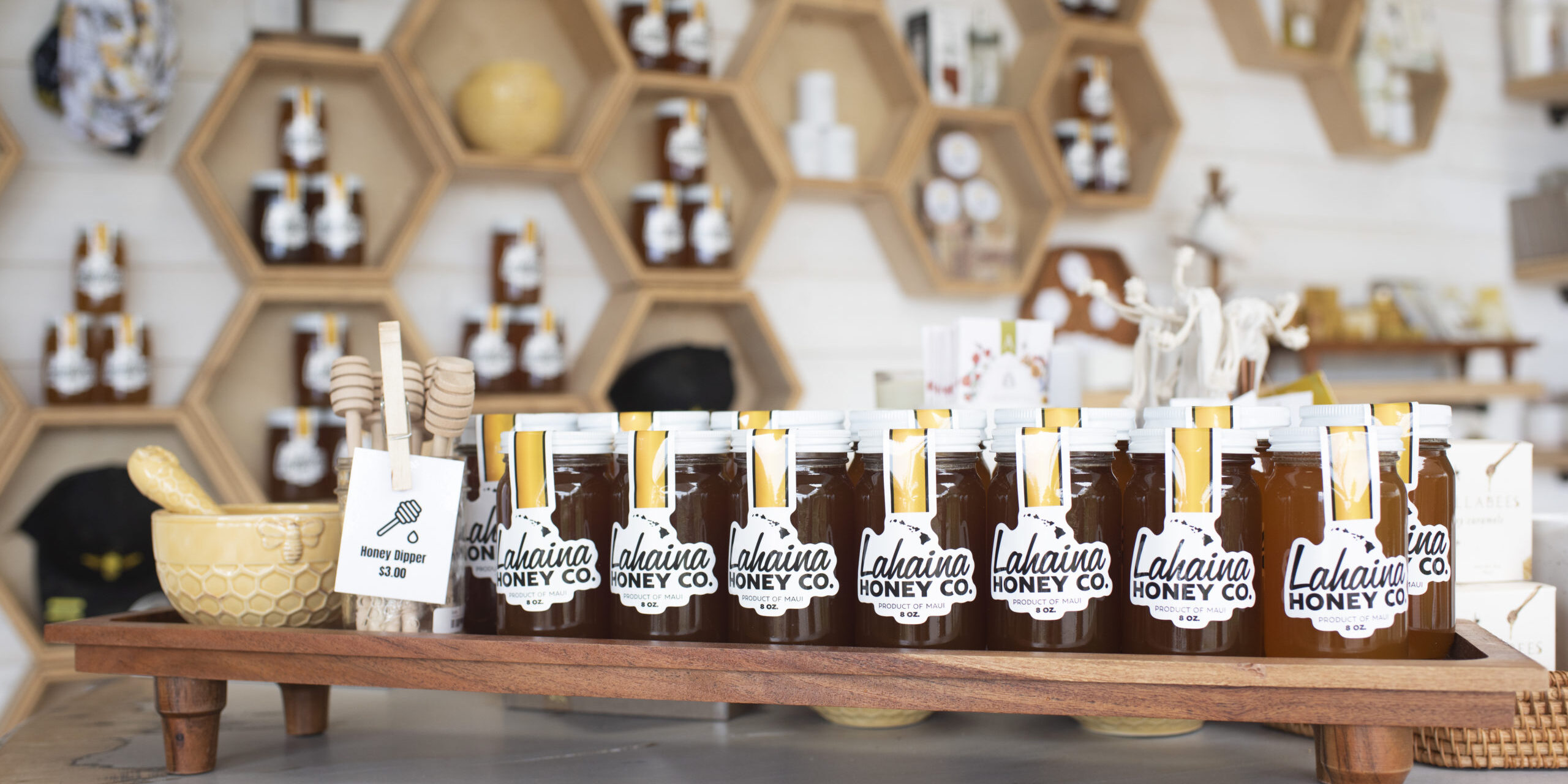 If you're a local looking for an event outdoors or a visitor seeking activities in West Maui, the Lahaina Honey Company & Maui Bee Tour, provides an excellent opportunity to escape the hustle of resort area. Launiupoko offers both some interesting island perspectives along with beautiful mountain to ocean views.
From Lahaina / Kapalua / Kaanapali: Take Honoapiilani Hwy 30 south. At the Launiupoko intersection light, make a LEFT up Kai Hele Ku.When approaching the roundabout, turn left on Hanui Street. At the end of Hanui, turn up right on Second Punakea Loop. Destination is a few hundred yard on the left. Please follow signs .
From Kihei / Maalaea: Take Honoapiilani Hwy 30 west to Lahaina. At the Launiupoko intersection light take a RIGHT up Kai Hele Ku. At the roundabout, take a left on Hanui Street. Then, at the end of Hanui, turn up right on Second Punakea Loop. Destination is a few hundred yard on the left. Please follow signs.
The Lahaina Honey Company: A Sweet Treat on Maui
Maui is known for its incredible beaches, lush jungles, and world-famous surfing spots. But did you know that Maui is also home to some of the best honey in the world? The Lahaina Honey Company offers tours of their hives and honey production facilities, as well as tastings of their delicious products. If you're looking for a sweet treat while on vacation in Maui, be sure to check them out!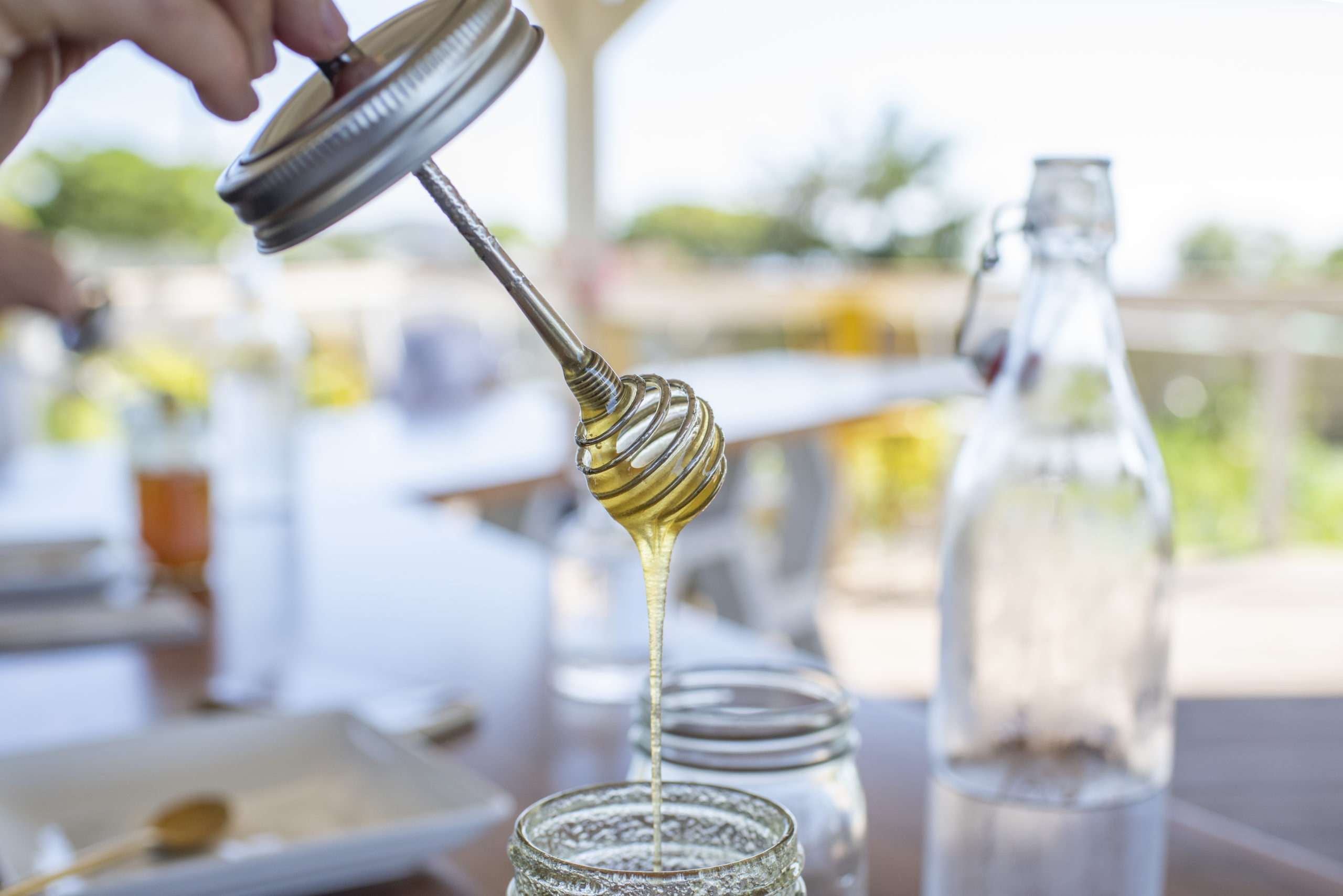 After finding an abandoned hive in the woods next to his home in Olowalu, Maui, owner Eldon Dorsett put on a generic bee suit(welding gloves & snorkel Bob bag)  in an effort to help them when he saw that the hive had split apart so the comb was showing and thousands of bees were exposed. He got stung many times, but quickly developed an unexpected fascination with honeybees.
He read every book he could find, visited beekeepers, went to classes, and scoured the internet for every bit of information about honeybees before starting to save and remove hives from homes and businesses in the area to build an apiary. Before long, he was placing hives on farms for pollination and honey production. Lahaina Honey Co was born.
Eldon the beekeeper found a permanent location for the business in Launiupoko in West Maui and set out to share his wealth of knowledge and great love of the beautiful and complex world of the honeybee.
Launiupoko is located just a few minutes from historic Lāhainā Town, on the slopes of the West Maui Mountains. The area offers simply stunning coastal views of the Pacific Ocean and Maui's neighboring islands. This incredible setting is a perfect spot for bees, healthy living quarters, and all they do for our environment, while enjoying Maui's pristine natural beauty. The area is also home to a wide variety of Maui's flora, which the honeybees love.
Difficulty:
For all ages. (Not for children under 5)
No, bees are not endemic to Hawaii. Italian bees, Apis Mellifera, were the first to make their way to Hawaii. Although they are now impure and mixed, bees have extensive days and play important role in daily activities.
Thriving off of temperatures between 95-100 degrees, female bees complete a gross amount of work. From nurse bees feeding larva, to guard bees protecting their environment, they also perform the housekeeping, feeding the queen & working making propolis and bee bread.
So what do the men do? Their main purpose is for reproduction only... with the Queen.
West Maui, having no seasons, honey is produced twice per year.
Winter honey content are thicker and darker.
Summer honey is lighter in color and sweeter to taste.
If the honeybee experience has you hooked once you've visited, Lahaina Honey Company has a great selection of bee related products and honey-inspired gifts. Available to purchase at the farm or via its online store at www.lahainahoneyco.com. You can shop for everything from ecofriendly beauty products, apparel, and accessories, home and garden décor, stationery, jewelry, and of course food and honey. Gift cards are available to buy online too - the perfect gift for any honeybee lover!
Bring your camera for photos
Bring water or hydrate well
Be prepared to learn about bees
Late afternoon to sunset views are amazing
The Queen Bee
Banana Trees
Yellow Hibiscus
Neem Trees
Local Plants
Avoid fast movement around bees
Wear a hat for sun protection
Wear cool but protective clothing
Little Shade
Led by experienced beekeepers, who manage bees themselves, this guided bee farm tour provides an immersive view into the world of the honeybee. Joining the tour is a great way to learn about the honeybee and how honey is produced. You will explore the internal workings of a honeybee hive, taste delicious raw honey straight from the hives paired with a selection of tasty cheeses, and even purchase some in a souvenir jar to take home! The Maui Bee Tour lasts around 1.5 hours and is offered daily with multiple start times throughout the day. Reservations are recommended and full protective safety suits and gloves are provided.
Whether you're just looking for something interesting to do on Maui or want to experience the magic of the honeybee and its role in our ecosystem, Lahaina Honey Company is a great place to visit - you won't be disappointed.
The next time you are near or around Launiupoko and looking for a breath of fresh air, head up to the Maui Bee Tour at the Lahaina Honey Company . Please remember to contact Kimberly to join you, who is the Owner and principal broker of Living Maui Real Estate. Kimberly is here to assist with relocation, market statistics, or transitions of your real estate portfolio.
Featured Living Maui Real Estate Properties
Listing courtesy of Living Maui Real Estate LLC
Join Us For More of the Living Maui Lifestyle.
Send us your name and email and we'll send you our bi-monthly email updates, which features everything our beautiful island of Maui has to offer!